Instagram :: Convert Likes into Conversions
Instagram is revolutionizing the visual web. The platform acquired by Facebook for a cool billion dollars, makes it easy to share artsy photos in an instant. And with more than 400 million active monthly users and 80+ million photos shared each day, it's evident that consumers can't get enough.
One of the most unique attributes of Instagram is that it allows users to tell stories through visuals.
When creating all this powerful visual content, the question becomes, what stories do you want to tell? Here is your chance to communicate your product's value, showcase a different side of your brand, or prove how much you care about your customers.
Since Instagram is limited to photo and video sharing without click-throughs to eCommerce, Instagram's ROI isn't as clear as it is on Pinterest, Facebook, or Twitter. So how do you tap into Instagram to strengthen brand affinity and forge relationships with consumers?
3 Strategies to bring Instagrammers into stores, both digital and brick and mortar
1)      Make your Instagram followers part of your inner circle.
It's no secret that a little incentive can go a long way in boosting sales. And when it comes to gaining social media traction, it's no different. The trick is finding the sweet spot of consumers who may initially follow your social media channels for a discount but will stick around because they support your product. Here's where your Instagram followers come in—they've already expressed an interest in your brand, now all you have to do is motivated them to make a purchase.
One Method: Tease out exclusive offers on your Instagram feed that can be redeemed online and in stores. Not only will this strategy drive sales, it will also make your followers feel like they have the inside scoop, which will increase their goodwill toward your brand. Shopping site Aeropostale frequently uses their Instagram feed to provide an early look at the next day's sales, complete with the hashtag #useyourdiscount. The Result: Using Instagram as promotional real estate will remind your followers to get shopping—and to keep checking back for more steals.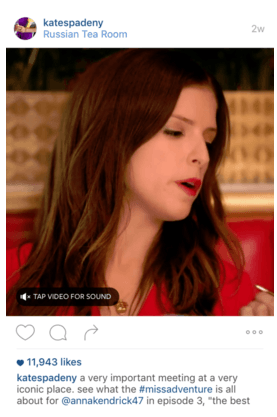 2)      Go behind-the-scenes
One of my favorite examples of going behind-the-scenes is Kate Spade. This brand has a ton of beautiful products to feature on their Instagram account, and lots of beautiful people to wear them. However, instead of just uploading images like Instagram is their social media catalog, Kate Spade does two things well: they show their products in an interesting, artistic way (making users both notice and engage more), and they've been known to share incredible behind-the-scenes content through Instagram.
Instagram gives brands the chance to not be "all about business," which is how it should be; customers and fans love getting know what it's really like behind the scenes, and showing them that can get you a lot of engagement, and build a strong rapport with them.
Kate Spade is also sharing their "missadventure" mini-series featuring Anna Kendrick, and getting a ton of extra engagement because of it.
3)      User-generated content.
Chances are your products are out on Instagram—whether you have an account or not—thanks to your snap-happy customers. Leveraging their legwork and using it on your brand's page not only saves your time, it also implies a positive customer review and enhances your product with a visual example of how to use and enjoy it. A great example of this was when Topshop invited customers to showcase their own looks on Instagram using the hashtag #TopshopWindow. An impressive use of user-generated content as part of a wider marketing strategy centered around London Fashion Week. Hats off to Topshop.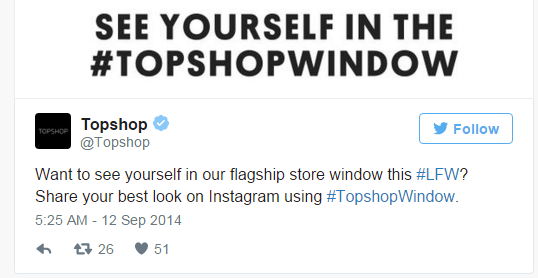 As brands grow their presence on the image-drive platform, the potential to convert Instagram followers into customers will continue to increase. Brands will benefit from a larger opportunity to collect user generated content and re-purpose it cross-platform. With visual platforms like Instagram, content staring is a two way street. Eventually you'll have the power to frame the conversation to better reach your followers!