Content Strategy Intrigue: Encouraging Engagement From the Start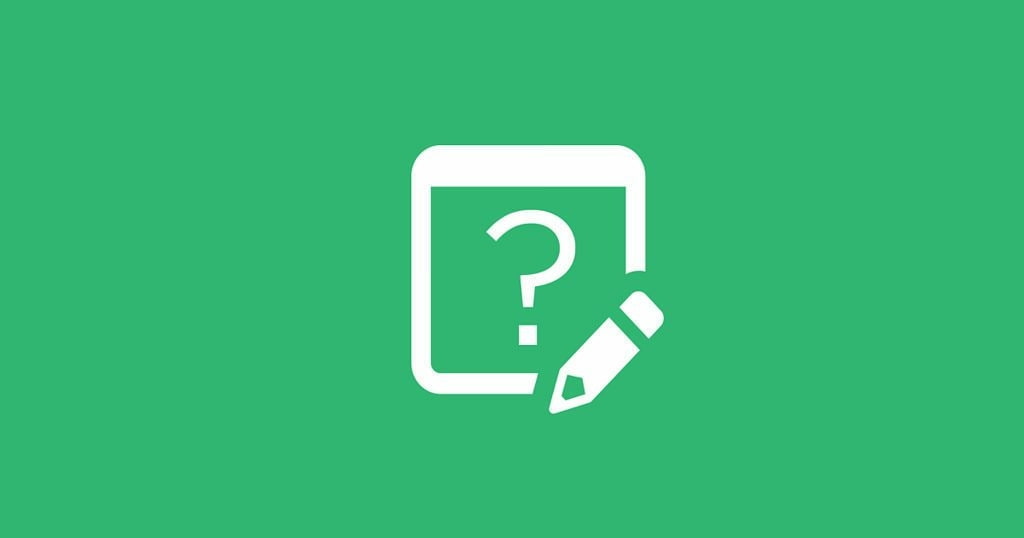 Perhaps the single-most obsessed-over key performance indicator for content marketers is engagement. The conventional wisdom being that your content is only as good as how many people engage with it: that they read, then comment and share the post to increase its reach.
But how do we plan for maximizing this erratic, user-driven KPI at the content strategy level?
Start by understanding how and why your audience consumes content.  This will help you plan for writing about topics in new ways. In short, you can add a level of intrigue to your content topics to arouse curiosity, illicit fascination, and encourage engagement.
Figure out what intrigues your audience
Armed with the knowledge that the average internet user consumes digital media for over 490 minutes – yes, that's over eight hours – a day, content marketers know that we must make our content intriguing so that it stands out from the competition. At this stage in the process, we recommend taking a look at your existing content metrics to see which pieces are being read most often. You can take this one step further by implementing a heatmap application – like Lucky Orange or Crazy Egg – into your content management system so that you can see how users are consuming your content. This investigation stage will help you better understand what intrigues your audience. Be sure to look for patterns around:
post titles
post topics
post lengths
dates of publication
organic performance
search queries
At the start of building a content calendar, we like to take a look at topic trends in existing content. Simply by pulling down blog titles and meta descriptions, we can create simple trend spreadsheets that help us deduce what topics have already been heavily focused on, and what topics might need a bit more support.
At this stage, we highly recommend taking a close look at the way your most-engaged blog post titles are written to see if you notice any patterns. Is your "how to" content returning higher click-through rates than your long-form summary posts? If so, we'd recommend using a title including "how to" for much of your content.
Planning your content's delivery
Once you've drilled down what intrigues your audience, put together some brief hypotheses or goals for the content or campaign itself. Are you planning to share it on social media or through an email? Do you want it to drive organic search traffic to the site? Consider every avenue and opportunity for your audience to engage with your content and determine which posts are best served where.
Yes, this means that not every post should be shared on social media, and not every one of your email subscribers should see each blog topic. There are certain ways to hone your messaging for each medium, as well, so we highly recommend determining how you'll be delivering this content before moving to the next step. Some mediums of content delivery that require very different types of content are:
YouTube – video
Twitter – short-form post copy
Instagram – image-centric
Blog – copy-centric
Email – all content digest
Landing page – conversion driven
Determining where and how you'll share your content with the world will help you determine which metrics you should track, and how you should track them. This presents a helpful list of goals to move you forward.
Inserting intrigue into your content calendar lets your content cut through the clutter
So, after the research stage we know that "how to" content is the best bet for our target audience. We've determined two words that should be included in our title text. This is where you need to channel your inner creative to come up with unique, engaging ideas and ways to present this content so it piques interest in your target persona(s). We don't want to just build out the same old post topics, nor do we want to use titles or concepts that already exist in your competitor's content.
For example, if you were creating content for a house-cleaning service, it's likely that you've covered plenty of "how to" topics such as "how to clean your ceiling fan." But a quick Google search for that query yields over 12 million results. What's further is that Google identifies and omits similar content, only showing the most pertinent and high-performing 102 results for that specific query. This means that the likelihood that your freshly published "how to clean a ceiling fan" blog will be omitted from search results is ridiculously high. Even if it did make it through, yours would still be competing with 102 other results, and it's also unlikely that your brand new, just-published post will get anywhere near the top-performing search results.
So, what do you do? You take a closer look at that query to come up with a new, intriguing spin on the content. To drill down the topic and identify some key differentiators, review the SERP for additional suggestions, including the "People also ask" section:

We also recommend taking a closer look at the "Related searches" section: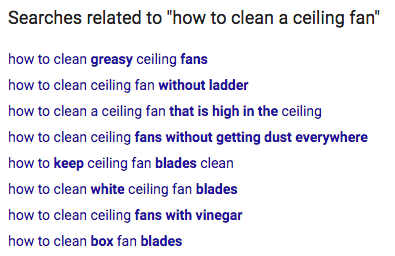 This is a good starting point for brainstorming additional, intriguing spins on content that targets high-volume keywords.
We highly suggest spending a lot of time at this phase of your calendar process, as this is a main component that separates your content from what's "good" and helps it hit our goal of "10 times as good" or, aptly, 10x.
Determining how to package your intriguing content
Now that you know what types of your current content have performed the best for your audience and what topics you'll be tackling during this editorial calendar, you need to decide how you're packaging the content. At this point, you may feel like there's no way to make this topic more unique than any other blog that covers the topic. If you've decided that you want to stick with the topic despite its lack of uniqueness, try coming up with a new format for delivery, such as:
Meme
Book review
Opinion post
Link pages
Podcast
Research
You can get all sorts of ideas for how to package your content by researching with trusted resources in content marketing such as Moz, Quick Sprout, and Content Marketing Institute. After all, sometimes the best way to introduce intrigue in a less-than-unique topic area is to package the content in a different way. However, it's always important to use your discretion. In delivering content in new ways, bear in mind the appropriateness or any controversial qualities of the topic area as well as your end goal for delivery and audience targeting. We recommend this post from Quick Sprout for more insight into which type of content is best served when.
Measuring success
Once the content has been published and shared, you'll want to determine the success of the content. Maybe you had originally decided that this content was best suited for a Facebook post, and you wanted it to be shared. Take a look at your "share" metrics to gauge whether you've hit your mark. By comparison, if it was a blog post that you hoped would attract new users to the site organically, dive in to Google Analytics and take a look at how it performed as an organic landing page.
Things that should be considered no matter how you're measuring the success of your content include:
How long it's been published
The volume of the targeted search query
The amount and types of mediums through which the post has been shared
For long-standing content, you can continue to A/B test your calls-to-action and other copy tweaks in order to enhance the content's performance. Further, once you've determined that a blog post is performing better than you had anticipated, you can consider re-packaging the same content in a new way to engage with different sectors of your audience.
Conclusion
Considering that over 12,000,000 results show up for a general "how-to" topic and only 102 of them are determined by Google, Bing or Yahoo to be unique, it's imperative that you come up with a fresh take on your content calendar topics. In order to truly stand out from your competition, your content should be intriguing. Like teaching an old dog new tricks, there is always a new, fascinating way to think about the topic at hand, or a different solution for packaging and delivering it to the masses.
If you're having trouble finding creative solutions for your same old content, Oneupweb is here to help. Learn more about our content marketing services by reaching out to us.