iPhone-Controlled Helicopter
You read it right, folks. A helicopter or quadricopter that you can control from your iPhone is set to be released sometime this year by Parrot Wireless. I know, I know, what will they think of next, right? iPhones that drive your vehicle or control your mind? Or maybe even evil robots that drive your car and control your mind?
Regardless, the Parrot AR.Drone is the real deal—it's being billed as the "First iPhone-Controlled Quadricopter Drone." The Parrot AR.Drone comes with a camera plus 2 augmented reality video games! It also has an open development platform, which means developers can make their own quadricopter games (sounds dangerous to me).
No matter how cool, dangerous or ridiculous it may sound, the Parrot AR.Drone is only the beginning of iPhone controlled technology. The price is still unknown, but I can't imagine it will be cheap. I think I'd be willing to splurge on something like this as long as it was cheaper than the iPhone itself. What about you?
Up Next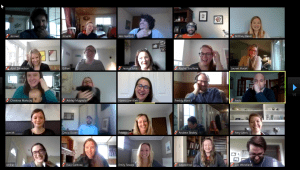 Building Remote Company Culture We've been working from home for … approximately 3,781 days. Just kidding. Obviously, our marketing agency is blessed to be able to continue working remotely, providing services to our clients and staying healthy all the while. Even before 2020 threw us a curveball, we had a flexible work-from-home policy and a...