Is an App More Important Than Your Website?
It's a common question: should I invest more in an app or put those resources to work on a mobile-ready website? The answer: it depends.
You've no doubt seen this statistic by now:
More Google searches take place on mobile devices than on computers in 10 countries, including the US and Japan.
It's a pretty bold statistic, one us digital marketers often use to help make the case for moving to mobile. This blog isn't about that. For the avoidance of any doubt: yes, your business needs to have a mobile presence. The question is: what kind of mobile presence?
We're often asked whether a business needs a mobile app, a mobile-ready site or both. For most businesses, our recommendation is a mobile-ready site. We base this recommendation on several factors, including:
Apps can be expensive to develop
Once built, they can be tricky to market (they add another element to your overall marketing plan)
It adds another layer of maintenance for your digital properties
Apps aren't always what your audience needs or is looking for
Further: Google recommends and encourages the use of responsive web design, which (in many cases) satisfies and cuts to the heart of the initial question—to be present on mobile. (Responsive design means your website responds appropriately to the size of the device it's being viewed on; it can eliminate the need for an app and a specific mobile site).
People don't often argue with that recommendation. Nonetheless, let's consider the following:
Americans spend 2 hours 21 minutes on a mobile device or tablet—and 80% of that time is spent in apps.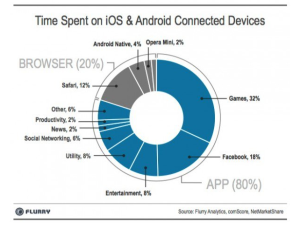 That statement might have you exclaiming: Eighty percent of mobile usage is being spent in an app?? Why wouldn't my business want one of these?
Let's take a step back and consider another wrinkle to this:
50% of that usage is spent in a users "most-used app" (typically Facebook)
80% of that usage is spent in a users' top three apps (Facebook, some kind of gaming app and one other)
(Via Quartz)
The landscape seems a little less app-friendly, no?
After all—despite yours and our best intentions, an app you develop is very unlikely to become uber-popular. And, while it might start off as being useful—it'll likely get sidelined in favor of your target audience's top-three apps, meaning it will get forgotten and unused (consider that 1 in 4 users abandon the app after a single usage).
That's not to say you should never invest the time and energy to build an app. It's more to say that if the question is a matter of having an app because you simply want a mobile presence for your business—you're most likely going to be better served ensuring your business has a mobile-ready site. If the question is a matter of how you can best serve some specific, nuanced pain-point for your target audience—and solving that specific, nuanced pain-point can be effectively accomplished with an app—then by all means, explore app development.
In all cases: do have this conversation with your marketing agency. Whether you have an app, a responsive site or both—your decisions will affect your digital strategy, and they will require some planning around it.
What do you think? Have you been considering an app? Let's continue the conversation in the comments, below. Look forward to hearing from you.
Main Image Credit: