It's Here! It's Finally Here!
Oneupweb has just launched a new website, and as one who has toiled away with the rest of the marketing department for several months on this project, I'm ready to echo the words on our new home page:
"So put your hands in the air. And let's get this party started." (Turn up your speakers when you get to the new site for a little theme music.)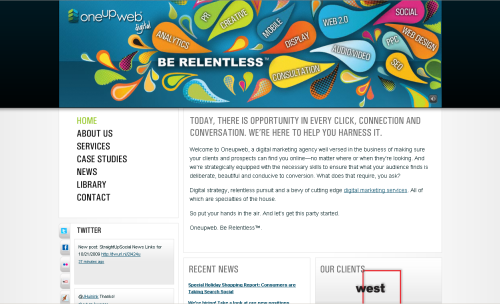 So why a new website? I'll let our CEO Lisa Wehr tell you that. According to her, "We're living in an evolutionary time. Like the crazy marketers we are, we think it's an exciting time full of new chances to differentiate your brand and relate to your customers in fun, effective ways. It's time to be relentless."
This means it's time for mid-level companies to start integrating the conventional with the unconventional. Think SEO and PPC, iPhone apps, Twitter, Facebook, augmented reality—and everything in-between. This is all stuff that we (Oneupweb) have been doing for ourselves for a while now. We've even won several national awards for our work. And while we've been offering these services to our clients upon request, we decided that now was the time to throw open the doors, turn up the music and really get down to business.
Our new website does exactly that.
From the flash piece on the website to the custom social media tabs on the home page, we've got a different look. Because the truth is, we're a bit edgy. And we like it. But don't worry, what we're offering is big agency work, and big agency talent, without the big agency price tag.
Here are a few of my favorite pages that you should check out:
Management. Scroll your cursor over the happy, smiling faces in the top picture. You'll quickly discover the kind of personality we have inside these walls.
Services. Who knew marketing had an equation?
Website Design. This is one of our expanded services. As you'll see from the examples, it's something we have quite a bit of experience with.
Mobile. As I covet an iPhone (yes, I know, thou shalt not covet), this page really speaks to me. It brings up the fact that cell phones are quickly becoming the one thing that we don't leave home without.
Creative. This page gives our designers a chance to shine. From flash banners and email newsletters to widgets and podcast production, their digital art will knock your socks off.
Laundry List. Does anyone else ever remember thinking, "gee, that Snuggle bear is a little bit creepy"?
Case Studies. This page is full of the kind of results you can expect from Oneupweb.
Press Releases. While I hate that picture (whoever likes a picture of themselves?), this page includes all of our breaking news.
White Papers. Trekkies unite!
I could go on and on, but that takes all the fun out of discovering it for yourself. So head over to our new website, check it out, and when you're done please let me know what you think.