Your Lazy Sunday Reading: Football Infographics
Looking for a little light reading before football kicks off? Why not take a look at these football-related infographics.
Baseball may be the national pastime, but by any measure the most popular American sport is played in the National Football League. Come fall, Sunday is synonymous with "football," and come January, fans of the NFL pay close attention to the last remaining teams as they march toward the season's final culmination: the Super Bowl. And the Super Bowl is practically synonymous with "Advertising."
A fascinating sport— foot ball is a storied contest that involves the players as much as it does the fans and the way they enjoy the game. But it'd be boring to simply drone on about some of its more interesting aspects—it'd be much more engaging to use some infographics to help tell those stories.
So look no further than the list below for a handful of infographics that help describe some of the game's most interesting aspects.
View them, share them, tell us what you think. We'd love to hear from you in the comments, below.
Up Next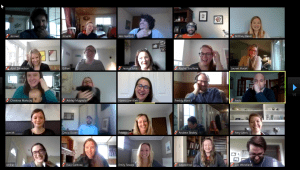 Building Remote Company Culture We've been working from home for … approximately 3,781 days. Just kidding. Obviously, our marketing agency is blessed to be able to continue working remotely, providing services to our clients and staying healthy all the while. Even before 2020 threw us a curveball, we had a flexible work-from-home policy and a...