The Lesson of 'Mean Girls': Why Optimizing Visual Content is Crucial
Your website is beautiful! Just look at all the artsy photos, captivating videos and easy-to-read infographics. Yes, you look stunning. But if we've learned anything from our favorite teen makeover movies, don't let your new image drive away all your old friends.
(See Mean Girls, Clueless, Jawbreaker, She's All That, etc.)
As in "friends" I mean website visitors and potential customers. Looking sharp is vital to the user experience, and every sleek website should contain at least some high-quality visual elements. But what about the search engine experience? A pretty website is absolutely worthless if users (your friends) can't find it.
That's why striking a balance between aesthetics and functionality is absolutely key, and that's our mission as a full service digital marketing agency. We know that pleasing both the users and search engines begins with optimizing the visual elements on your website.
To get a better idea of what I'm talking about, start looking at your website through the eyes of a search engine. Do this by disabling images in your web browser.
How To Disable Images in Your Web Browser
Firefox: Download this quick Web Developer add-on
Google Chrome: Settings > Under the hood > Content settings > Check "Do not show any images box"
Internet Explorer: Tools > Internet options > Advanced > Multimedia > Uncheck "Show pictures"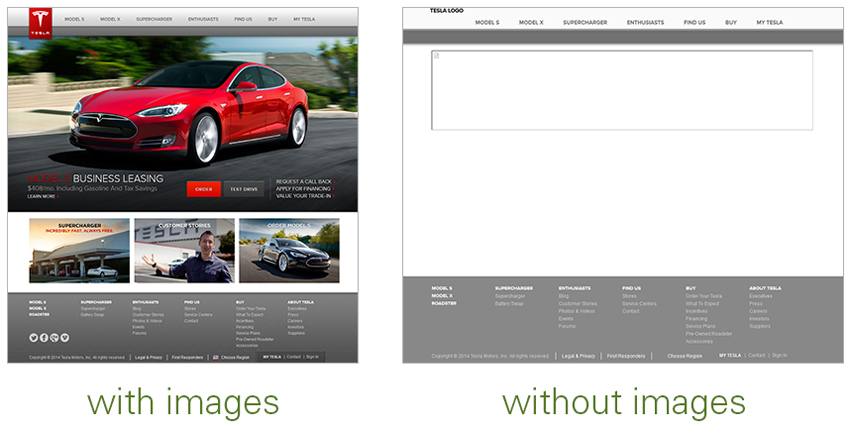 Not so hot anymore, right? Keep in mind that you may still be seeing some elements on your website that search engines can't read–JavaScript, CSS and Flash-based graphics. So if your website already looks bleak without images, it's likely even worse. Now that you see the problem, here are just a few ways we help our clients upgrade their looks while keeping old friends and making plenty of new ones.
Tag & Title
With images disabled, can you still understand what your website is about? Since search engines can't understand all of your pretty pictures, they instead look at the file name, title and alt tags for information. Without these descriptions, high-quality photos add little SEO value to your website. Instead, they just fill space.
Shrink & Prioritize
Visuals are great for aesthetics, but they can also be very large files that dramatically slow load time. And as Google has explained, slow page speed can negatively impact search rank. And don't forget about mobile! Google recommends that mobile sites load in under 1 second, which is pretty fast considering that most mobile sites take up to 7 seconds to load! That's why it's important to shrink files when possible and prioritize which content to display above the fold and which content to display a little farther down the page.
Explain & Transcribe
Although your infographic may contain text, it's still an image. Search engines can't read images. That's why it's crucial to add a paragraph or two explaining what the infographic (or video) is actually about. In some cases, it makes sense to provide a complete transcription. Also, make it easy for users to share or embed your infographic on their website or social channels. And don't forget to include your URL or brand name somewhere on the image.
Considering a digital makeover? Need help optimizing existing visual elements on your site? Then let's talk more about high-quality visual content that's both aesthetically pleasing and search engine friendly. Or we can just share our favorite lines from Mean Girls.
"One time, she punched me in the face. It was AWESOME."