Managing Franchise PPC Campaigns
Managing franchise clients can be an interesting feat in the world of paid search marketing.
More than likely, not only are you advertising for the 'corporate' Papa Bear, but you have the responsibility of managing PPC advertising for the entire family – the whole bear cub pack.
Separating the bear pack into individual baby bears is the key element when dealing with your corporate bear family. Papa Bear and the cub pack want to see metrics on a cub-by-cub level (OK, enough with the bears).
It's imperative for franchisee owners and corporate to know how their local franchise PPC campaigns are performing. The best way to manage this success is to branch-out campaigns and tracking.
To have an accurate account of franchise-level performance, each franchise branch should have its own PPC campaign. Now that each franchise has its own campaign within the engines, you can more specifically target the audience you want to reach. This will make it easier to ensure that the franchises are only advertising to potential clients, not everybody and their brother.
You should also use unique tracking codes for each franchise. That way when you look at date from your analytics system, you'll have metrics for each franchise instead of one lump sum of information for all franchises.
In summary, when bears come out of the woods to start their PPC advertising, organizing the cub pack into individual baby bears will be the key to your success. More importantly, it will make Papa Bear proud.
Up Next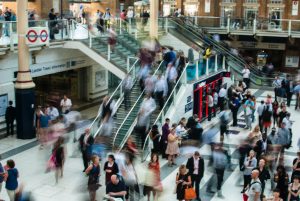 When you've worked in marketing for a couple of decades, you've surfed hundreds of waves of change in digital marketing. Through it all, these have been the top digital marketing FAQs we hear at Oneupweb. Cruise our answers to these marketing questions, and feel free to ask us something directly. Who should I be marketing...