Meet Daniel Hanson–the Newest Member of Funupweb
Name:
Daniel Hanson
Position:
Paid Media Project Manager
What's your average day like at Oneupweb?
Enjoyable
Tell us about a favorite client moment.
Too early
Tell us about a favorite Oneupweb moment in general.
Ping pong is always fun.  Listening to and watching Dave W.'s shenanigans makes us laugh.  He's really into birds.
What's your favorite blog and why?
Uncrate. I'm a nerd and a bit superficial.
What makes Traverse City appealing? What are your favorite things to do/favorite places to eat, etc.?
Traverse City has been great so far.  I've only been here for a month, but I can already tell that it's a really special place.  People are just happy here.  I'm also really enjoying being able to ride my bike everywhere.  I never really understood it before, and why people are soooo into it, but I get it now…  My favorite place so far is probably The Parlor.  They have live music on the weekends and everyone is friendly.
What do you really do at Oneupweb?
I analyze, I strategize, and  I execute.  I say stuff.  I laugh.  I lose at ping pong.  I listen.  I learn.
What do you do when you're not at work?
Usually hang in my workshop and make saw dust, but my tools are in storage until I find a place with enough space (below are some pics – my pride and joy).  I'm getting a little anxious about not having a shop, but thankfully there's a lot to do here like biking, playing sports, going to bars and restaurants, etc.  I also read and listen to music, and of course there's TV…  People who say they don't watch TV are lying.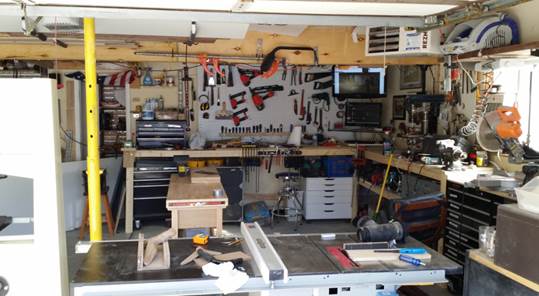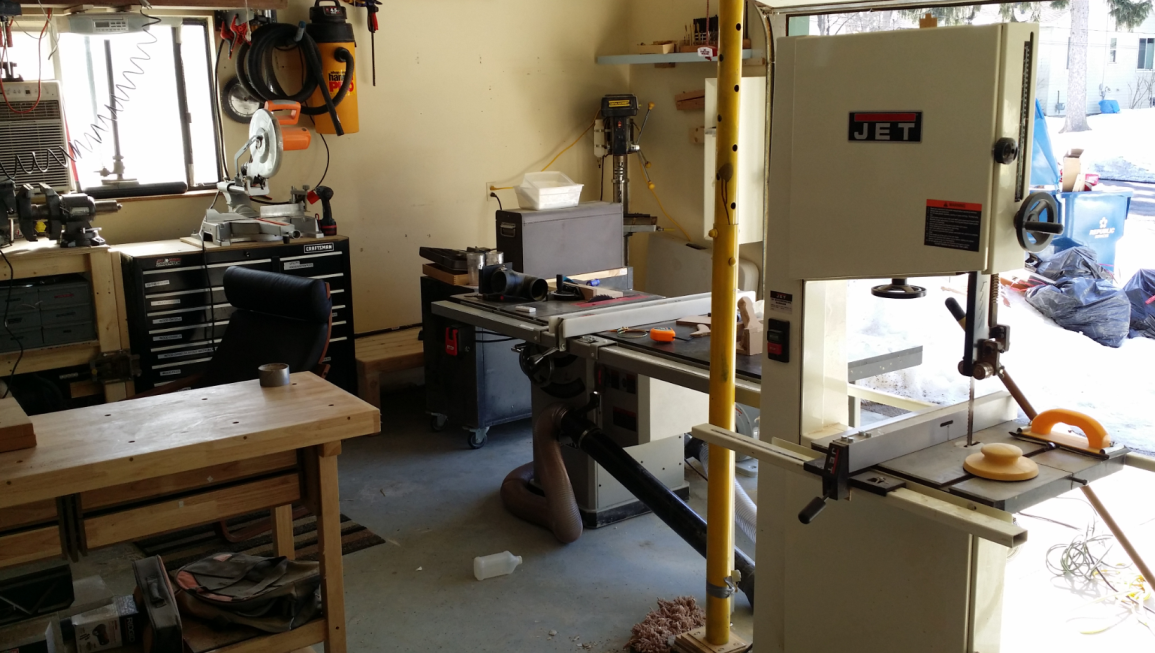 If you were stuck on a deserted island, what tool would you bring and how would you make your deadline?
I would most definitely bring a lathe.
Years from now, what will stick out most about 2014?
Ehhhh.
It's 5:30 PM – what's your cocktail of choice?
Depends who I'm with and whether I'm trying to look cool or not.
What's the last song you intentionally listened to?
Last night was beautiful and sunny, and on my way home, "Feeling Alright" by Joe Cocker came on the radio…  If I could turn up the volume to 1,000,000 I would, but unfortunately 40 is the max on my car.
Favorite Spotify/Pandora/Grooveshark station?
Black Crowes/Derek Trucks, or Otis Redding/Aretha  Franklin
What do you carry in your purse/man-bag?
Depends on the day.  I always have a few sets of headphones, chargers for my phone/laptop, socks, underwear, Neosporin/Band-Aids, knife, Leatherman, lots of pens, notepad, Ibuprofen, sunglasses, regular eyeglasses.
What's your secret guilty pleasure?
I don't share secrets.
Favorite book/movie/album/TV show/etc…?
There are so many it's impossible to make a choice, but I do love the Departed, Amy Winehouse's "Back to Black" and Game of Thrones.
What's one of life's simple pleasures?
Waking up and realizing you have 2 hours left before you have to get up.
The Internet is listening: give us your words to live by.
I'm not qualified to say yet, but I'm hoping I will be sometime soon.
If bike cruising, bar hopping and ping pong playing is your thing feel free to reach out to Dan at dhanson@oneupweb.com.