One for the Road: Meet the Crew
I was pulling my four official One for the Road: Operation Michigan t-shirts out of the dryer last night when it hit me: we leave on Monday! For those who are going, "what the heck is she talking about", let me explain.
It's no surprise to anyone if I say our economy is not so great right now. Businesses and entrepreneurs are getting hit hard, and even the best companies are having to make some budget cuts. This is especially true in Michigan. We were all talking about this one day, and my CEO simply decided enough is enough. She decided it was time to do what we could to help others. And then she told us that we were packing into her 1970's motor home for a five day tour of the state, stopping in various cities to offer our online marketing consultation services for free. To any Michigan business that showed up at one of our stops.
As you can probably imagine, the answer she got was silence. This is something that companies just don't do. They don't give away their services, with no strings attached, just to help other companies. At least, it doesn't seem like there are a lot of companies out there doing that today. But that was exactly what she was proposing. And after that moment of shocked silence, we ran with it.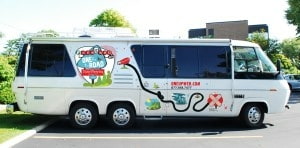 On Monday we hold our kickoff for the One for the Road: Operation Michigan tour at our offices at noon. Then seven of us are getting on that motor home and we're headed to Ann Arbor, Lansing, Grand Rapids and Traverse City. To help Michigan businesses continue to survive and thrive the best way we know how.
In retrospect, in the silence after Lisa announced her plan, I probably should have thought, "Seven people on a motor home for five whole days?" And then probably, "Six employees on a motor home for five days with their CEO?" But I didn't. These thoughts only just occurred to me as I pulled my t-shirts out of the dryer. So I thought it would be fun to share with you some of the other concerns that my fellow roadies have expressed. Please see below:
That being separated from my therapist for an extended period of time, the herbal-acupressure-hypnotherapeutic remedies will wear off and it will be discovered that I have an intense fear of roads, crowds, tight spaces and fast food…er…and all technology.
Breaking my leg when we board the motor home at our kickoff party.
That I'll run out of "nice" after the fist one or two stops.
Dripping ketchup on one of my 4 white t-shirts.
I sleepwalk, so hopefully you won't find me checking the motor home oil at 3am.
That I'll have to deal with bathroom issues in the motor home.
Gas – the human kind.
Getting left behind in a strange city.
I will be the one that has to squeegee the windows on the motor home every time we stop for gas.
That it isn't a recurring nightmare this time. I AM at a large convention. My boss IS there and I DID put my lucky Marvin the Martian underwear on over my jeans.
That we'll need to be towed to one of our stops.
That I'll have to use the restroom on the motor home, for a loooong time.
Dave bringing corn nuts on the bus (note-this was a concern of all seven us, including Dave himself).
So who are these people that are crazy enough to set out on the One for the Road: Operation Michigan tour? Check out the video below. (I also have to note that there are two people missing in this. One has a male stand-in, which is just odd because she's a female. And they didn't even try to pretend I was there. Not sure what that says…)
So anyway, look for my tell-it-like-it-is blogs next week from the road. This should be one interesting road trip. I'll be revealing all the behind the scenes details. And don't forget to visit us along the way.
We'll see you on the road.