One for the Road: Michigan, Round Up Your Tweeps.
As most know, Oneupweb is headquartered on the breathtaking shores of Grand Traverse Bay in Traverse City, Michigan.  What you might not know is how much we love this great state we call home. So much so, that on Monday, August 17, 2009 a portion of the Oneupweb team (our CEO included) will be embarking on a first-of-its kind tour of the state.
Sight seeing?  Not exactly.
Instead, the talented Oneupweb crew is packing into an awesomely updated vintage motor home to tour the mitten, dishing out online marketing consultations and advice to Michigan businesses – for free. That's right. Free.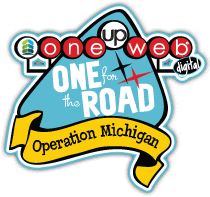 The tour, called One for the Road, will provide business owners with actionable online marketing solutions that they can take back to their desks and turn into sales. And that's not all. It's also a one-of-a-kind networking event for Michigan business owners and employees. Now is the time for those who live and work in Michigan to band together and help each other. Because let's face it, waiting for the economy in this state to change is an option that's closing storefronts and shutting industries. It's time to grab the bull by the horns. (Which of course is always easier when you have a friend to help you wrangle the bull first.)
One for the Road : Operation Michigan will be rolling into the following locations:
* Monday, August 17th Traverse City, Kickoff at Oneupweb Headquarters (noon)
* Tuesday, August 18th Ann Arbor,  Gallup Park
* Wednesday, August 19th Lansing,  Sharp Park
* Thursday,  August 20th Grand Rapids,  John Ball Park
* Friday, August 21st Traverse City,  Oneupweb Headquarters
Join us at each stop between 11:00am and 6:00pm for custom solutions to your Twitter woes. A tailored action plan that your business can use to incorporate Facebook into your marketing strategy. SEO advice. Paid search answers.  Anything – and I mean anything digital marketing – is fair game. Bring yourself, your peers, your business card and your questions. We can't wait to meet you.
Can't join us? Call the One for the Road hotline at 877.833.0667. Don't forget to follow the One for the Road journey on Twitter @Oneupweb and @LisaWehr, Facebook, YouTube and Flickr. Surely, with this crew it will be an entertaining one to watch.
Join us Michigan. Let's chart a new course, one that takes us back to our roots as a prosperous state filled with smiling faces, hard workers and a love for the natural surroundings we're so blessed to have. We're committed to doing business in this state and to helping other businesses do the same. And we're relentless about it. If you are too, we'll see you soon.