Modern Warfare 2: Creating a Blockbuster with Social Media
Call of Duty: Modern Warfare 2. Remember that name. Video games are big business. $21 billion per year kind of big business. Modern Warfare 2 launched just over one week ago and it has already broken sales records throughout the entertainment industry.
$333 million in sales on the day it was released. $550 million in the first five days.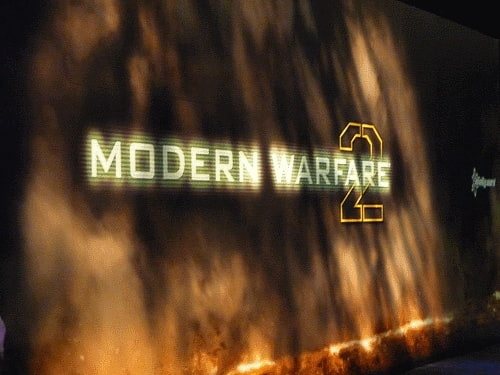 These numbers topple previous entertainment industry sales records held by big budget movies like "Harry Potter and the Half-Blood Prince" and "The Dark Knight". Each of these releases had their own social media story, but MW2 is the only one that has really caught my interest. How did the Call of Duty franchise benefit from social network buzz in the days and weeks leading up to the November 10th launch? I will attempt to distill the mass of popular social topics down to a few key points.
Becoming a trending topic on Twitter is the digital equivalent of having your newest work featured in Oprah's Book Club. Tons of site traffic, a surge in sales and plenty of chatter on social networking sites are all things one would expect after receiving a blessing from the big O. Call of Duty: Modern Warfare 2 (#MW2) experienced all of these benefits thanks in part to social networking sites like Twitter and Facebook.
Alexa traffic graphs of the past three months for the top sites related to MW2 show sizable increases in traffic around specific dates.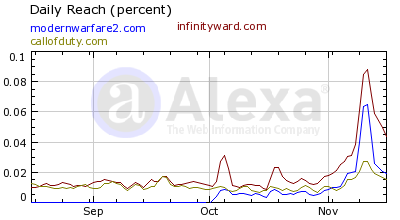 September 15th was the announcement of the Xbox 360 MW2 bundle. October 4th was the release of a new game trailer. On October 18th came the announcement that dedicated servers would not be allowed in the PC version of the game. October 26th marked a leak of controversial in-game footage showing the slaughter of civilians in an airport. This last item sparked a firestorm of controversy and social networking chatter that has continued since it was announced.
Each of the news items listed above generated massive amounts of social network traffic which resulted in many new Twitter hashtags and Facebook groups. Robert Bowling, Director of Communications and Community Manager for Infinity Ward (MW2's developer) attempted to make the most of the buzz surrounding the game with frequent tweets on each news item of the day. One of the most notable tweets was in response to leaked in-game footage showing a new 3rd person play mode.
"http://bit.ly/3KGy8k – Yes there's a leaked video. Yes it confirms a new Playlist type in #MW2 & yes it's why I recommend a media blackout."
Media blackout or not, the leaked third-person mode and civilian slaughter footage brought more attention to the game than one could imagine. The developer could have decided to remain mum on social sites, but they would have lost a great opportunity to engage and respond to their core audience. Social engagement has become an important part of many marketing departments' public relation strategies in advance of and during product launches. Having a social presence helped in creating the buzz for the launch of Call of Duty: Modern Warfare 2.
Do you have a social engagement plan for your upcoming sales and product announcement? Having a plan could mean the difference between being a game maker and a record-shattering game changer.