Mom Can I Stay Home? I'm Not Feeling Very Social Today
Social networking, social reviews, social media, social news: it's what we do. Did I just give you a great example of keyword dropping? Maybe. Was that the next Doctor Seuss 2.0 book? Neither. We just really love all things social!
We wake up first thing and give a good ol, "Good morning!" to Facebook. Outside the window we can hear Twitter chirping its beautiful song. We grab our cups of coffee and turn on the YouTube to catch the latest shows. We read the Google newspaper and begin our day. Life is well… perfect.
However the other day when our team met we laughed as we said, "Today we just aren't feeling very social." GASP! The social team not feeling social? Suddenly the Twitter bird stopped chirping in mid song, Facebook covered its mouth in disbelief, and YouTube interrupted itself to bring us a special news bulletin.
"We interrupt this special presentation of the Yankees winning the World Series to bring you an even more special presentation. Oneupweb's social team not feeling social today!"
We asked ourselves could it be that social networking has made its users less social? Has it caused users to retreat to the caves where World of Warcraft players dwell? Where people who once had normal healthy satisfying lives now live lives of regret, Doritos, and possibly way too much Code Red Mountain Dew?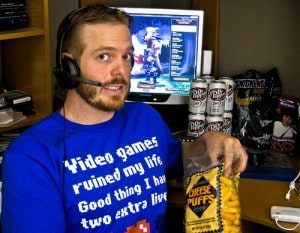 For a minute there was panic as we scrambled to hold on to something that would restore our now shattered world of social media. Did social networking cause its users to be less social? We needed an answer. Our lives depended on it. We searched high and low and what we found was a recent Pew Internet study entitled: Social Isolation and New Technology.
This Pew Internet Personal Networks and Community survey finds that Americans are not as isolated as has been previously reported. People's use of the mobile phone and the internet is associated with larger and more diverse discussion networks. And, when we examine people's full personal network – their strong and weak ties – internet use in general and use of social networking services such as Facebook in particular are associated with more diverse social networks.
After reading the study our lives suddenly made sense again. We all took a deep breath and followed it with a sign of relief. Our social network friends went back to tweeting, tubing, and posting. As we began our day the sun shined in through the open windows, a cool breeze brushed across our desktops, and we thought for a moment… it's another beautiful day at Oneupweb.