Nielsen & Facebook Explore Value of Social Media Ads
Nielsen & Facebook recently released a joint report entitled "Advertising Effectiveness: Understanding the Value of a Social Media Impression". The information was gathered over the past six months, and reportedly analyzed survey data from more than 800,000 Facebook users, and over 125 Facebook ad campaigns from 70 brands.
The Nielsen report examined the value of Facebook ad campaigns, using three criterions:
Ad Recall
Brand Awareness
Purchase Intent
Based upon numerous studies indicating that consumers trust their peers more than other sources when deciding to make a purchase, Nielsen's study set out to determine how not only paid media but also "earned" and peer-to-peer advocacy contribute to campaigns. Nielsen defined "Earned Media" as advertising that is passed along or shared among friends and beyond.
Nielsen examined 14 Facebook ad campaigns that used "Become A Fan" as the engagement point or call to action, and then examined the effectiveness in three ways:
Lift from a standard "Homepage Ad"
Lift from "Homepage ads with Social Context"
Lift from "Organic Ads"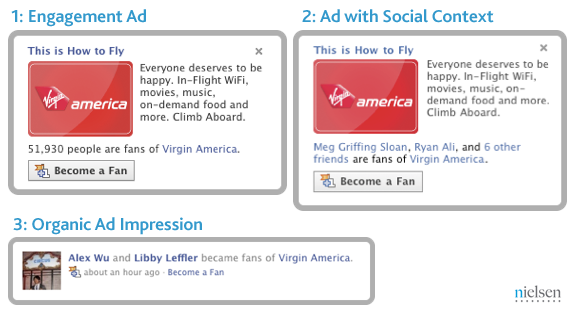 The study revealed some great insight into the effect that peer-to-peer advocacy can play in social campaigns: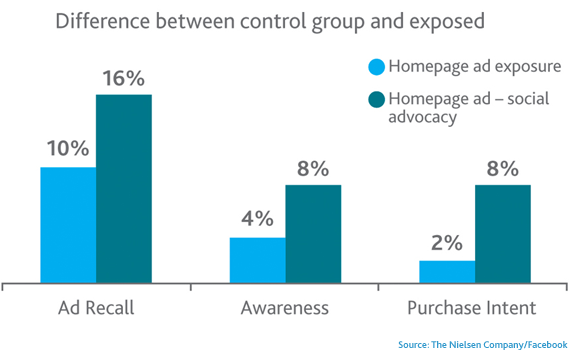 The report's findings show that users who saw ads with social context had higher response rates than users who saw ads without social context from the same campaign:
Ad recall grew from 10% to 16%
Awareness doubled from 4% to 8%
Purchase intent jumped from 2% to 8%
The data also revealed the following concerning organic and paid interaction:
For homepage ads at the top of the marketing funnel, awareness increased by an average of 4% between exposed and control audiences. Purchase intent also increased on average by 2% following ad exposure
Users exposed to the paid ad and the organic impression remembered the ad at 3X the rate of those just exposed to the paid ad.
People often say that it takes 7 to 12 touches for a marketing message to be remembered. This report (that can be found in its entirety here) reminds us that though this may or may not be true, the social media channel allows for a quick and direct way to get your message to the masses. The combination of both earned and paid media can be a powerful marketing tool, leading to significantly more awareness and an increase in purchase intent.
Are you interested in jumping into the exciting world of social media marketing and increasing your brands footprint? Want some guidance on how to get started? Just reach out to a professional digital marketing company like Oneupweb to get started today.