Nike Pounds the Social Pavement
In a marketing blitz to promote its Nike+ running shoe, the shoe manufacturer is tying the laces on the online social running scene.
With more than 24 million miles logged by Nike+ customers, Nikeplus.com offers runners a place to share running stats and more.
The running stats are easily recorded thanks to the Nike+ iPod Sport Kit. Used in conjunction with a pair of Nike+ running shoes and an iPod nano, the sport kit transmits running stats, such as time, distance, pace, and calories burned, to the iPod. Runners can even get audio updates on these stats as they pound the pavement.
There's a nice visual explanation on Apple's website.
Following your run, have a rest at your computer while transferring stats from your iPod to Nikeplus.com. The website enables you to track running performance, set goals for yourself, share your stats, and challenge runners from around the globe to a race.
To get more runners using the site (and purchasing iPods), Nike and Apple have teamed with Finish Line athletic footwear stores. In-store customers get demonstrations of how the technologies work together and a coupon card for a free iTunes download.
To pump up the pace a little, the entire promotion is being supported by an ad campaign on TV and YouTube.
My running (by choice) days have come and gone, but I would love to see this technology promoted to downhill skiers. Maybe Rossignol could make an effort to befriend Apple.
With the social marketing race already in motion, sports equipment manufacturers of all genres should start thinking about the possibilities.
Up Next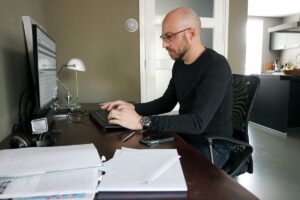 Blogs are an incredible tool for building brand awareness and even driving sales. The best way to get long-term benefits from your business's blog posts is to prioritize SEO and thorough topic planning. Here are the basics and the detailed logistics to know.   The Basics 1. Choose effective topics. Successful content marketing requires creating...