NSFW: I've Fallen in Love with the "Dick-ish" Paul Carr
If you've read TechCrunch or the Guardian you may be familiar with the dreamy Paul Carr.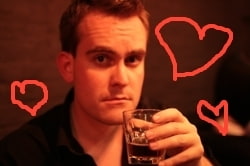 I like people who have confidence. Period. You can be the ugliest, most vile SOB, but if you have confidence – there is a good chance I'll have a crush on you.
I also like people who are honest. Again, you can be the ugliest, most vile SOB, but if you are honest – there is an even better chance that I'll have an even bigger crush on you.
So, that is the reason why I've fallen in love with Paul Carr.
OK, so I've never met the guy, but I have read several of his Not Safe For Work posts in TechCrunch. If you aren't familiar, NSFW is a weekly column where Carr basically writes whatever tickles his tech fancy, in an open and very honest manner – cursing included. For example, here is the title to one of his recent posts: "NSFW: Facebook Breached My Privacy, And Other Things That Whiny, Entitled Dipshits Say"
If you haven't read that article – you should. His articles aren't for the faint of heart or those easily offended. But here is a quick excerpt that summarizes the idea:
The only true privacy is not to post anything on a social network that you wouldn't want the world to see. It's like that old advice for sending credit card numbers by email: think of it like a postcard; you wouldn't send your credit card number that way, so don't do it by email. Think of photos on Facebook as the colourful side of that postcard. We can blame Mark Zuckerberg all we like for killing privacy, but the truth is all he's doing is giving us the rope with which to hang it ourselves.
I have my own opinions about Facebook's privacy changes – but after pondering Carr's statement for a while, I have no argument.
He has a valid point! Don't post anything online that you consider "sensitive" or "private." Drunken pictures from your college days, pictures of your children, your cell phone number, where you work, your parents, your siblings – and the list goes on and on. If you don't want people to know about it then DON'T POST IT ONLINE.
I've said it before and I'll say it again, ask yourself this short and simple question before hitting Facebook's Share button: should I really post this?
This self-proclaimed "kind of a dick" writes things that people find offensive and hard to swallow. I've had instances of "poster's remorse" where I've shared things online that I wished I had not – but I'm not a victim, I have only myself to blame.
Facebook's Open Graph platform is a wake-up call to Internet users. People need to realize that posting things online is not private, if you want it to be private then keep it to yourself. Everyone has had experiences where they are faced with a situation where they need to decide if they should (a) do what they want to do or (b) do what they should do – Facebook is no exception.