One for the Road: The Recap
This morning, my heart was broken. I had to hand over my beautiful MacBook, and return to my regular desk computer. That's right, the One for the Road: Operation Michigan tour has come to an end, and so has my love affair with one of the greatest technological inventions of this century.
Computers aside, the road trip was a fantastic success! We started off in Ann Arbor, meeting and talking with some great local businesses like Dress Up Time. They even brought us a present. (Thanks Dress Up Time! This picture will live in infamy.) We also had the chance to meet up with Jonathan and Steven from Nology Design and had a great conversation with a local foods kitchen, among many others. The main concerns or areas needing help in Ann Arbor, were, well, there were no main areas! Every person who visited us or called our hotline had a different need. From basic SEO to viral social media campaigns, we talked about it all. And a friend brought us lunch from Zingerman's, including some delicious cookies.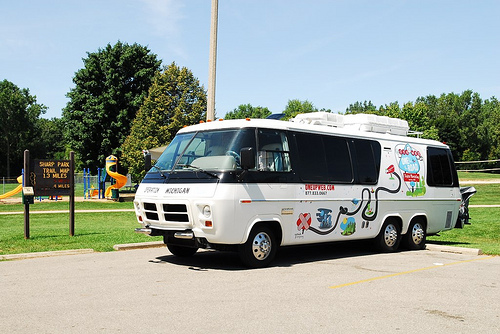 From Ann Arbor we all packed back into the motor home and headed to Lansing. And waiting for us was a gentleman who had traveled four hours to have us help him with his online marketing. It meant a lot to us to be able to provide him with some good SEO advice. We also spoke with a few nonprofits that needed help bringing fans into their social media sites, accountants and other small business owners. (When we said we had a range of different businesses, we meant it!).
Grand Rapids started off with a little bit of rain. Which was scary, because we actually hadn't reserved a shelter. Luckily, the rain brought in some cancellations and we were able to secure a roof over our heads. And good thing we did! The Duck Pond Pavilion at John Ball was hoppin' (flappin' and quackin' just didn't seem to fit). From landscape architects to home day care, business big and small stopped by for some online marketing advice and a chance to ride in the giant swan boats. (The advice they got, the boats stayed chained up.)
Then we were home. It went so fast. And we didn't even have time to breathe, as Traverse City was our busiest day of the entire trip. It was all hands on deck at Oneupweb, literally, as we had to call down additional employees to help out. Fair trade markets, local restaurants, lawyers, entrepreneurs, logo wear, chiropractors, dentists (my dentist was there and reminded me that I need to schedule a cleaning), bike shops, cherry products, motor products, the list goes on and on.
Curious who stopped by to see us at each of our stops? We're working on a Oneupweb roadshow map. It's no where near complete, but check it out for a quick glimpse of some outstanding Michigan businesses.
Okay, so what did we learn? Teal likes hot peppers, Rob doesn't sleep, Vern likes the cameras, Dave can blow a bigger bubble than Maureen, Leah is awful at picking restaurants and Lisa is truly relentless in anything she does.
Oh, you mean about businesses in Michigan, and their online marketing needs? Well, I can tell you that everyone has an online marketing need. Whether you are actively (or sort of) engaging in SEO, PPC and Social Media, or even if you are still designing your website. The time is now to get involved in online marketing, expanding your reach and continuing to ensure your business thrives.
So would we do it again? Just let me know when Pearl (the motor home) is gassed up and ready to go. But this time, I'll let the group buy the 2 foot long, 3 pound bag of Twizzlers.