Oneupweb : 20 Some Holiday Apps to Help Make Your Season Merry
Today is December 1st, which means if your holiday season didn't already kick into high gear last weekend, then it's high time it does. As we all prepare for the hustle and bustle of Christmas time let's look at some mobile apps that can help us tackle all that this busy season entails.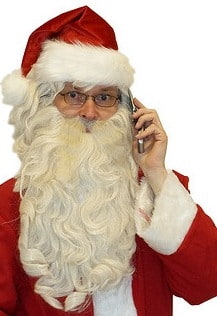 Retail Apps:
These days it seems like all the major retailers have branded apps available. Most of which are free and typically include features like access to weekly ads, special deals, gift finders, shopping lists and more.
Chances are if they put a flyer in your Thanksgiving paper then they probably have a mobile app out there as well. Below are a handful of retail apps that I happen to have loaded on my iPhone (at least for the season).
• Best Buy
• Kohls
• Target
• Toys R Us
• JC Penny
• Macy's iShop
Deal Finders:
Who doesn't want to find the best possible deal they can for the gifts they are buying? It's the spirit of giving, not the spirit of going into debt. And let's face it, as we're checking people off our lists, the expense can really start to add up if we're not careful. So who wouldn't like an app that helps them find the very best deal out there for the gifts they want to purchase?
• Red Laser
• Pic 2 Shop
• SnapTell
• The Find
• Amazon's Price Check
Gift Giving:
What do you get for that person who has everything? Everyone has at least one of those hard to buy for people on their list. At risk of sounding cliché, there's an app for that. In fact there are several apps for that.
• Better Christmas List helps you create shopping lists, set and track budgets for individuals or groups of people, and receive alerts if you exceed that budget.
• Tracking Down the Perfect Gift allows you enter who you're buying for, as well as your price range, and with a shake of the phone it provides you with results (gift ideas).
• Parents' Choice Gift Finder is perfect for parents, as it features Parents' Choice tested and approved toys, games, books and music.
Entertaining:
As the holidays approach, the opportunity to entertain presents itself. In fact, sometimes it makes itself unavoidable. And let's face it, we're not all Martha Stewarts. But that's OK, because the actual Martha has an app to help us out—in fact she has several—as do others.
• Serving Sizer Pro Recipe Converter allows you to take any of your favorite recipes and convert the measurements up or down to fit the size of your holiday gathering.
• Simple Soiree handles all the details of organizing a party including sending invites to your contacts and keeping track of your confirmed guest list.
• Epicurious features a vast library of quality recipes.
• EatingWell's Healthy in a Hurry is a very nice cooking app from my all time favorite cooking/food magazine that features delicious, healthy recipes.
Just for Fun:
It can't all be hustle and bustle though. It's important to slow down and enjoy all that the holidays bring—and for crying out loud just have some fun!
• Christmas!! features a countdown, wallpapers, an advent calendar, as well as seasonal songs and jokes to help make you the life of the party.
• Santa Tracker
• Christmas Music
• Christmas Tree Decorator
• Winter Snow Globe