Oneupweb: 3 Guides to a Great e-Commerce Website
Designing a user-friendly e-Commerce site can be a real headache because of all the design and functionality angles you have to achieve. Not only do all of your products need to be on display, but the website needs to act as an inventory management system, and most importantly, attract sales! Not to mention you have to accomplish all of this within the various restrictions and limitations of the internet.
You have to design an e-Commerce site with consumer behavior in mind. Here's exactly what the consumer expects:
Familiarity breeds trust. A website that looks like an e-Commerce site is going to be  immediately perceived as trustworthy when it comes time to pull out the credit card. When customers feel accustomed with a site, the more comfortable they are with making purchases.
Obvious is good. The homepage is like a store's window display, minus the mannequins. Let visitors clearly see what you have to offer upfront. Don't overwhelm customers with making them click through a bunch of pages just to view products. In the same time it takes  a consumer to click through to see  your product, they could (and would) have easily clicked over to a competitor's site if yours isn't user-friendly. Consumers have no problem seeking a product elsewhere if they are frustrated with a site that doesn't easily show detailed information. It's important to have price and product specs that are accessible within a single click.
Bottom-line: Functionality. Keep it simple—that goes for both back-end management as well as front-end usability. In other words, avoid feature creep. Extra functions, like search features and online customer service (live chat) are only a competitive advantage if they deliver quality results to the consumer 100 percent of the time. Otherwise, broken applications, form failures or irrelevant search results (basically tricks that don't work), will maim the site's credibility and ultimately send the consumer packing.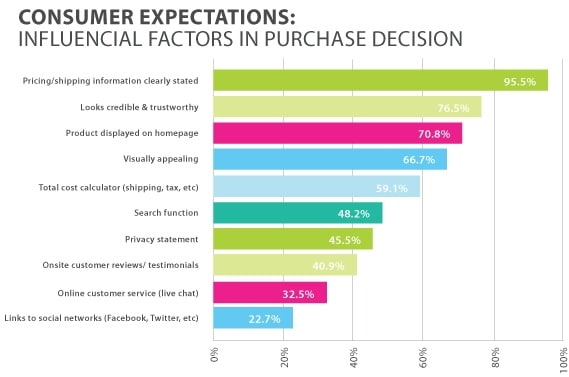 For more information about e-Commerce web design, check out our new study, Revolutionizing Website Design: The New Rules of Usability.  Yes, we tackle website design for e-Commerce in this report, but we also take on  B2B, Travel & Hospitality and Higher Education. Our web developers and graphic designers know what it takes to create websites that are both aesthetically pleasing and functional! Don't delay… contact us today.