Oneupweb : A Better Way of Life
This time of year is beautiful in Northern Michigan—fresh local produce, flowers in full bloom and warm sunny weather. Working for Oneupweb we have the advantage of a wonderful place to work, live and raise our families. How many people can say they love their job? Less than a quarter of people according to some surveys. And not just love their job, but also enjoy the people in the workplace and everything the area has to offer.
Recently I had the opportunity to spend the day relaxing at the beach with my two year old daughter. We swam and played in the sand until she fell asleep right there in my arms on the beach. While she slept I could hear others around me talking about work, dinner plans or even what their kids would do when they got older. One woman was dreading the drive downstate to her home that afternoon and the fact that she would have to get ready for another day at her crappy job. Another woman told her child that they would make her so happy when they grew up if they were famous (an actor, president or athlete)! This really took me by surprise! Who says that?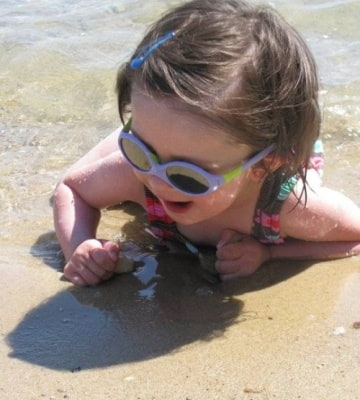 I'm not a native to the area by any means but almost twenty years ago my parents packed the truck and moved us to the cabin, here in Traverse City, Michigan. We fought like crazy, but soon adjusted. A pay cut maybe part of living in Northern Michigan, but a better way of life is what my dad kept telling us. His explanation meant nothing all those years ago, but now sitting on the beach twenty years later it hits home. I don't have to pack up camp from the gorgeous Lake Michigan shores and head four hours home, because I live only five minutes away, by bike. Most people vacation here and this is where we live, work and play! There are even movies filmed showcasing our area, in fact a new release that I watched over the weekend was filmed on the exact beach I frequent. When I talk with my daughter about what she wants to be when she gets older I don't know if it will entail being famous. But whatever her dreams are I hope that she is happy, everyday.
I can't say were not famous here at Oneupweb though. We have a whole room devoted to awards from the services we offer. Our trophy shelf completely screams that we are notable, maybe not quite famous, but definitely in the know. We've got our heads on straight, because we aren't entirely concerned with famous titles, more  importantly we all enjoy what we do, where we live and the work we produce. No need for the big city lights and poor air quality for this bunch.