Oneupweb : A Blue Angels Diamond [Formation] is a Girl's Best Friend?
Traverse City is a funny place to live sometimes. A couple of weeks ago we experienced an earthquake, and last week the Blue Angels were practicing in the airspace directly above us. The shake of the quake didn't compare to the terribly distracting noise from the planes.
These extremely powerful planes were practicing for a show in front of thousands of spectators, which I'm grateful for. I appreciate the fact that they were practicing instead of just saying, "Hey guys, let's just wing it this time."
No thanks. Please go practice.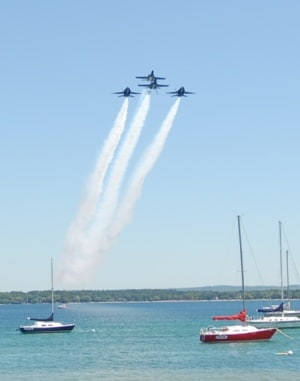 Just to see the moves behind the commotion, my family and I went to see the Blue Angels air show this past weekend. While we were most impressed with the maneuvers, we weren't impressed with the organization of the event. The show was scheduled to start at 1pm, but the Blue Angels didn't start their portion until after 2pm. There were other planes showing off their skills before the Blue Angels, but the overall sense in our end of the lawn was that the show felt unbalanced. After moments of brilliance, there were long moments of absolutely nothing.
Even in vacation destinations like Traverse City, the pace is fast. We expect instant gratification, booms and aahs at regular intervals. If we expect this at a two hour free event, then what happens when additional costs are incurred?
Groundbreaking News
You aren't going to feel the ground move or see a whirring of planes when I say that practice makes you better and results are gratifying. At Oneupweb, we build brands that help organizations reach new levels. When you work with the team at Oneupweb you'll meet a group of people who not only love what they do, but are relentless. Whether it is learning about a new algorithm update or finessing a conversion path on a client's site, we are driven to make impressive results.
What are your thoughts when it comes to learning new tricks and showing them off?
---