Oneupweb : A Perfect Storm for the Social Network
Sunday was The Golden Globes, which is an awards show put on by the Hollywood Foreign Press Association. It's also, one of my favorite award shows, because it's not hosted in a huge theatre with a bunch of flashy productions. Don't get me wrong, I love the Academy Awards, but the Golden Globes have a different vibe. They are more intimate and the champagne is flowing like water at the tables—one of the reasons it is always a little more fun and unpredictable.
One of Sunday's unpredictable events (besides the edginess of Ricky Gervais) was The Social Network taking home 4 awards out of its 6 nominations. I haven't had the opportunity to see this film yet and I can't help but wonder how this movie would have been received if it had come out in 2009. Looking back on 2010, you couldn't escape Facebook, even if you weren't a member. In fact, when Aaron Sorkin was writing this movie in 2008, many people thought it [ the screenplay] was a joke and would be boring. Guess who's having the last laugh now as Mr. Sorkin was honored for his writing on Sunday?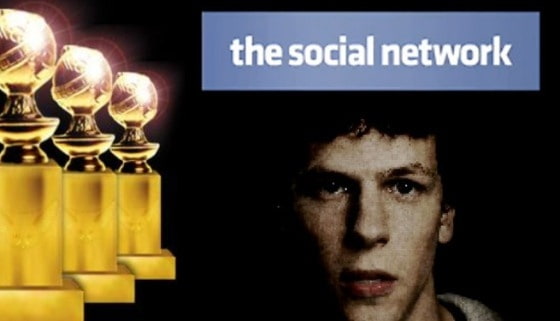 I think the commercial and critical success of this film have a lot to with timing. Facebook is a real power player in how we communicate today. We use for its intended purpose to keep in touch with friends and family, but Faceook's purpose has expanded to be one of the ways businesses connect and market to their audiences.
To top it off, Facebook was the most visited website in 2010. "The Social Network", a film about how Facebook started, made a statement at the Golden Globes and will likely be nominated for several Academy Awards at the end of this month. Not bad for a website that's only been around since 2004.
All these things helped contribute to The Social Network's success and I didn't even mention the actual marketing of the film. Simply put, it was the perfect storm for The Social Network. Do you think the film would have been as successful if it had been released earlier? I'd love to hear your thoughts.