Oneupweb : AdCenter Syndicated Search Partners—The Return of the Yahoo! Search Partner Network
The transition from the Yahoo! Search Marketing platform to Microsoft AdCenter is over. Advertisers are settling into the new system and adjusting their campaigns as enough traffic data accumulates to start making decisions. One of the adjustments that I was keeping an eye on during the transition was what the result would be with the Yahoo! Search Partner Network.
If you've followed any of my previous postings you'll know that I was never a fan of the YSPN. The "network" was full of parked domains and made-for-ad sites, which rarely generated conversions and sapped efficiency from even the most well designed campaigns. Unfortunately, the Yahoo! Search Partner Network has morphed into what are now known as the "Syndicated Search Partners" in the AdCenter platform.
The syndicated search partner line-up contains many of the same habitual offenders that were seen in the old Yahoo! Search Partner Network as well as some new comers. Thankfully, the most recent version of the AdCenter Desktop Editor makes blocking the entire syndicated search partner network or individual member sites an effortless task. Below you can see the setting you can change at the ad group level to adjust where your ads will be shown.

This setting can also be adjusted through the AdCenter web interface in the following location.

Individual sites can also be blocked through both AdCenter's web interface and desktop editor if you discover that some sites are producing good quality traffic and you would rather not block the entire network.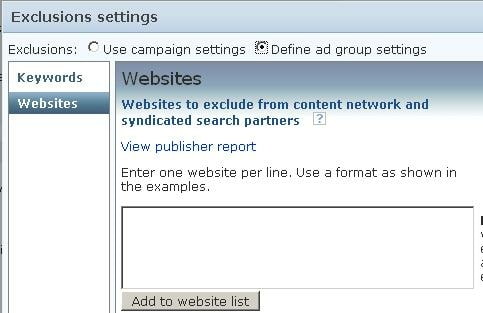 Before blocking syndicated search partners, or for that matter, before making any change to your campaigns, you should always analyze performance against your goals to be sure you're making the best decision.