Oneupweb : Add Logos to Google Maps—If You're a Big Brand
Google introduced a new maps feature yesterday that allows businesses in the U.S. to replace the generic icon usually found on zoomed-in map locations with an actual company logo. When clicked, these sponsored company logos provide links to businesses' Places Pages. As you can see in the image below, the generic icons don't provide a unique feel.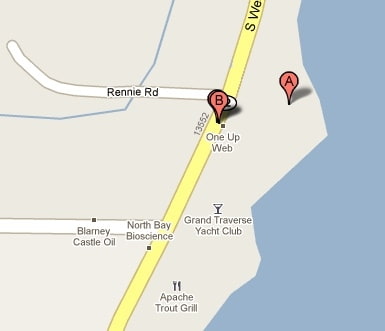 At first glance this appears to be a decent opportunity for small businesses that want a chance to be seen more in the Google Maps space amongst larger competitors in their markets. Unfortunately, at least for now, this opportunity is not an option for smaller businesses. It seems Google is continuing to lean more toward providing searchers with information and results related to larger and more established brands with this new feature, just as they have already started doing in natural search results. It turns out this new Google Maps feature is only available to businesses with multiple locations and brands that are already considered "well-known."
This limited offering makes sense in one respect, because chances are people are more likely to be looking for one of these established businesses for the things they need. That's part of the reason they became an "established brand" in the first place! But it seems a bit unfair to local businesses who are trying to make a name for themselves in their particular search spaces.
Getting your business seen in a sea of larger brands can be hard as it is, and little things like this make it seem as if Google wants to make it harder. I'm not saying having your company logo appear on Google Maps is the golden ticket that will send your business's search traffic through the roof. It's not. But it could be another piece of the puzzle—enhancing your local search optimization. For now, it's best to focus on the optimization tactics that are available to small businesses. There are a lot of them, so no need to fret.
While the new company logo feature in Google Maps is currently being offered in limited beta, it does have the possibility of becoming available to smaller (single-location) businesses in the future. This means Google Maps could provide smaller companies with further opportunity to stand out a bit more when it comes to search.