Oneupweb : Apple iPad vs. HP Slate
For over five years, rumors about the coming of a touch screen tablet soared throughout the design community and amongst tech worshippers. Although the technology was readily available, the tablet still had not been released. Finally, on April 3, 2010, the iPad Wi-Fi was available to the public. Thanks to the man in black, Steve Jobs, for proudly releasing the iPad for a somewhat reasonable price.
Is the iPad the tablet the tech prophets spoke of? Or is this just a substitute gadget to fill the tablet shaped hole in our hearts? Okay, enough with the blasphemy, but did you know that in some techy-circles the iPad is known as "the Jesus tablet"?
As of right now, the iPad has no competitors and I know Mr. Jobs would love to keep it that way. However, there was one potential competitor. That competitor was the HP Slate, which was unveiled to an enthusiastic crowd of PC disciples in January 2010. Unfortunately, before the HP Slate was released to the masses it was pronounced dead in late April 2010…according to some media scholars, HP was not satisfied with Windows 7 as a tablet OS.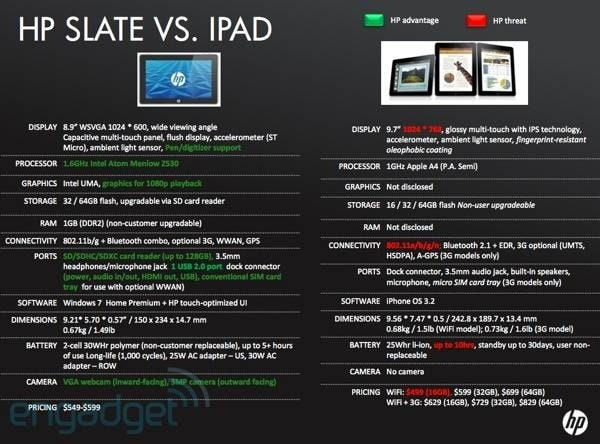 If you play the spec game and compare the two tablets, the HP Slate looks like it would have been a strong competitor to Apple's iPad. In fact, on paper the Slate almost seems to be the wiser choice. So, why would they pull the plug on the Slate?
Most tech gurus think that one of the key reasons for not releasing the Slate was due to the small battery. It's a bit tricky to run a big operating system (Windows 7) and still incorporate all the trendy laptop extras on a small device (the Slate). Perhaps HP saw this as a potential problem and decided that if they really wanted to compete with Apple, they would need to create the perfect tablet.
I have messed around with an iPad and I think it is simply amazing. Yet, I don't see myself ever buying an iPad until it has printing functions, and more importantly, until it's flash friendly. These two downsides of the iPad are exactly why we need the HP Slate. Some good old fashion competition will not only get us a better price, but a better tablet, too.
I don't believe the Slate is dead. I am faithful that the Slate will return better than before and give Apple a run for its money. When will this happen? Unfortunately, I don't have an answer. But until that day is upon us, I am anxiously awaiting the resurrection of the HP Slate.
What's your input on the tablet mania?