Oneupweb : Are You Using Webinars or Live Chats to Promote Your Business? You Should Be.
I'll be the first to admit that the very word "webinar" makes me want to close my eyes, fall out of my chair and smack my head on my desk drawer on the way down so I don't wake up until the "webinar" is over. Traditionally, they're astonishingly boring.
But they don't have to be boring! And they don't have to be called a webinar. Who came up with that term, anyhow?
Think about it. A "webinar" gives your business the opportunity to engage a live audience of prospects and clients. Potentially thousands of them–from across the globe! Very few other marketing channels provide that opportunity in such a cost effective, non-invasive way. Stop thinking about it as a lecture and start thinking of it as a virtual conversation—and your business is sure to reap the rewards.
Recently, Oneupweb started to harness the power of the "webinar" with our live strategy sessions. And we've seen astonishing success. Here are a few tips to turn the boring webinar on its head and make it work for your business:
Before you pick your topic, put an ear to the ground and find out what your audience wants to know from and about you. Check your social channels, your email, your proposal requests—what does your audience want to know?
Power Point is not the only answer. Do you have product demonstrations people would like to see? Can you do a live site review? Make the session engaging and move beyond the slides. Anything you can bring up on your computer can be broadcast live during a webinar. So put the slides down.
Be real. There shouldn't be a script…and just because you've scheduled an hour, doesn't mean you should spend 59 minutes of it lecturing. The goal with a webinar should always be to engage your audience. Take their questions and answer them, live, in real-time.
Continue the conversation offline. If you have attendees who are particularly engaged and have numerous questions on the subject or your business—follow up with them! And do it quickly. A webinar is an introduction, and an introduction is useless if there's no follow through on the relationship.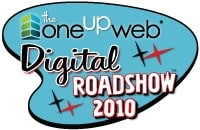 It's one of the most cost-effective marketing channels out there today, if you execute well. If you need help, or ideas, ask us! And, be sure to check out our digital road show series.
Next Wednesday our CEO, Lisa Wehr, and Director of Operations, Tim Kauffold, will be having a live chat on the new PPC. If you're interested in learning how to run effective paid search campaigns in new channels like Facebook, and set new ROI benchmarks for your business, you will want to attend.
And the best part about it all…there's virtually no power point involved. Much like our One For The Road: Operation Michigan tour that took place last summer, we're giving the power to the people. You ask, we answer. Just don't call it a webinar.