Oneupweb : Be Relentless: Business Success Against the Odds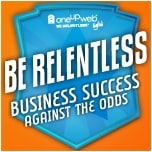 Have you ever watched a movie or read a book and come out of it thinking, "Wow, my life is pretty lame compared to this"?
Yes, me too. But it's not always a bad thing! It just means it's exploding with entertainment value.
And "edge of your seat entertaining" is exactly how I would describe February's episode of Oneupweb's newest monthly podcast, "Be Relentless: Business Success Against the Odds." This episode features Dr. Jerry Linenger, an American astronaut who (among numerous accomplishments) survived the most severe fire ever onboard a spacecraft while aboard the Russian Space Station Mir and was the first American to conduct a spacewalk from a foreign space station while in a non-American engineered space suit. (His story is riveting, to say the very least.)
Okay—let's take a minute to dissect this. The simple fact that Linenger has been to outer space (a place I'll never venture to in my lifetime) and back is fascinating. But then combine that with his heroic stories and sightings of UFOs and what do you get? Simply unbelievable. I mean really, have you truly considered how difficult extinguishing a fire in outer space would be? No gravity. No naturally produced oxygen. And the water, well, floats! (I'm begining to wonder if Linenger has some superhuman powers we weren't made aware of.)
And although it will be a hard one to top, Dr. Linenger's story is just the beginning. Each month, Oneupweb will feature a different relentless Michigander in a new episode of "Be Relentless: Business Success Against the Odds."
This podcast series aims to shine a light on the success stories homegrown here in Michigan. It serves as a way to recognize these particular people for their leadership, perseverance and above all, their relentless character. We're really hoping that this series will get Michiganders fired up the same way it did us. We live in a great state that produces great people, leaders and professionals—and we thought it was time to pay tribute to them.
Stay tuned for next month's episode featuring New York Times bestselling author Doug Stanton (we hear he's even played hoops with George Clooney). In true Oneupweb fashion, it's going to be relentless, riveting and rip-roaring fun!