Oneupweb: Best in Show at 2010 BMA Tower Awards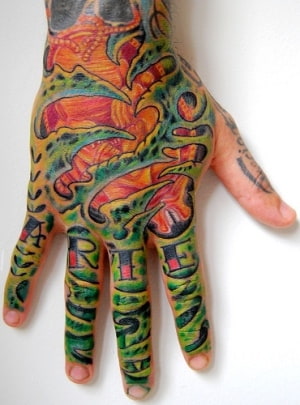 I've always wanted a tattoo. Please, don't tell my mom. I may be 28, but the wrath that she would inflict…I shudder to think about it. However, mom aside, the real reason I haven't taken the plunge is that I can't find anything that means so much to me that I want to wear it on my body forever. So when I arrived at the 2010 BMA Tower Awards at Hotel Sax in Chicago and saw that they were handing out free spray-on tattoos, I got in line.
I ended up with a green frog with sparkles.
Now, if you're wondering why I'm talking about a national awards ceremony and spray-on tattoos, you're not the only who is a little confused. When I saw the tables sprinkled with fake tattoos, and business men and women running around in skirts and ties with blue sparkly dolphin tattoos on their arms and legs, I was a little thrown off as well. But you see, what we missed was the theme of the event: Where Business and Creativity Mingle.
It's an appropriate theme, one that resonates in all of the work that we do at Oneupweb. Yes, we're a B2B company, but we still like to be creative and have fun with our work. And the 2010 BMA Tower Awards were all about recognizing outstanding B2B marketing campaigns that are not only creative, but get results.
More than 70 companies entered over 300 campaigns in 38 different categories for this year's awards. Oneupweb won a Gold award for our website, OneUpWeb.com. It was pretty cool to see our website "tower" over all the others—including some pretty big agencies from the Chicago area.
But then the evening got really exciting.
Our website was awarded the 2010 "Best in Show" award! I can't tell you how much this meant to all of us who worked on this site. The long hours, the number of times we had to "start over", the pressure, the stress, the late nights with pizza and Mountain Dew—this made it all worth it.
I think those big Chicago agencies didn't quite know what hit them. When they announced OneUpWeb.com as Best in Show, the room was kind of quiet. But honestly, our website is just an example of the kind of award-winning work we produce for our clients everyday. It's all about being relentless—something I've learned during my three years with this digital marketing agency.
Sadly, my green frog tattoo was gone the next morning. But the relentless drive I felt to top our Best in Show next year—that's not something that's going away anytime soon.