Oneupweb : Bing Business Portal Launches
On Monday, Bing launched a new portal for local business owners to claim and pimp out listings. It's called Bing Business Portal, and it's replacing the Bing Local Listing Center.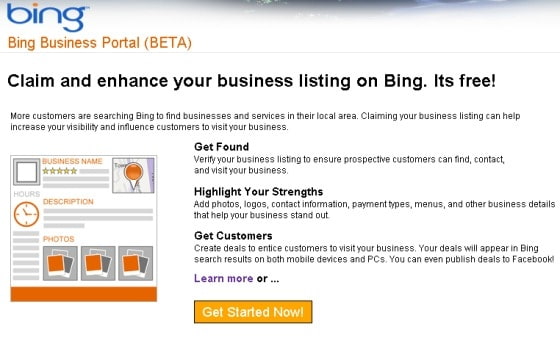 According to Bing, here's what you can do with this new portal:
• Claim, create, verify and manage local business listings
• Identify key search categories where you want your listing to appear
• Customize listings with enhanced details such as logos, photos and more
• Create a mobile website (and free QR Code) so customers can learn about your business on their mobile devices
• Create a custom menu (restaurants and bars) for inclusion on a mobile menu
• Create deals (coupons) and promote them for free on Bing (both PC and Mobile) and Facebook
• Authorize other users to manage your listings
You can also add links to your company's social profiles on Facebook and Twitter.
It looks like there are some cool features with the new BPP, like mobile site creation and deals. Deals or promotions that business owners create can be distributed via PC and mobile, and also pushed directly to Facebook. And if your deal is good enough, it may even get featured on the m.bing.com mobile site. That integration with Facebook is very nice, and it's something not offered with Google Places.
In fact, chalk this up as just one more thing Bing has rolled out to better compete with Google. And their efforts seem to be working. Hitwise just reported that Bing-powered search (which includes Yahoo) just surpassed 30% of the total U.S. search market share last month. This increase by Bing was at Google's expense, which lost 3% of search share since February.
The first step to taking advantage of Bing Business Portal is to go find your business and claim it if it hasn't been already.
Unless your business wants to potentially miss out on 1 in 3 searches, Bing can no longer be ignored. And this new portal will be an important piece to reach mobile users, and maximize local exposure.