Oneupweb : BRIM 2011 Brought Relentless Innovation & Innovators to Traverse City, MI
Welcoming 144 people into a building accustomed to housing 50 is no easy feat—but I'd have to say—the crew at Oneupweb did a pretty phenomenal job.
Yesterday, 11.10.2011, marked the first of a new annual event Oneupweb will be hosting. Titled BRIM, which stands for Bringing Relentless Innovation to Michigan, the event is exclusively for Michigan business owners, executives and entrepreneurs, and is designed to inspire and connect those in the state who are committed to driving Michigan's new economy forward by helping to educate them on how to best market their businesses. (Is that a mouthful or what? To summarize—it's designed to help Michigan businesses get together and converse on how to kick some serious a$$.)
BRIM 2011 did just that, providing:
Three excellent panel discussions: Advancing To The Next Level, Engage With Purpose & Brand With A Plan, Spearheading Social Media Marketing
A spirited cocktail hour showcasing some of Michigan's finest and the sponsors of the event: Bowers Harbor Vineyards (I have to say, not only is the wine excellent, the staff at this vineyard is the most hospitable you'll find—a huge thanks to Kristy and Connie), Short's Brewing Company (try these on for size: Bellaire Brown, Keylime Pie, Nicie Spicie) and K2 Events & Edibles (you absolutely must call Kristin and book her immediately, if you don't believe me, give her deliciousness a sample next Thursday at Left Foot Charley. She is not your standard caterer, her food is legendary and her personality is even better.)
And a live pitch session that gave six budding Michigan Entrepreneurs the chance to pitch to the Northern Michigan Angels for funding consideration (think Shark Tank)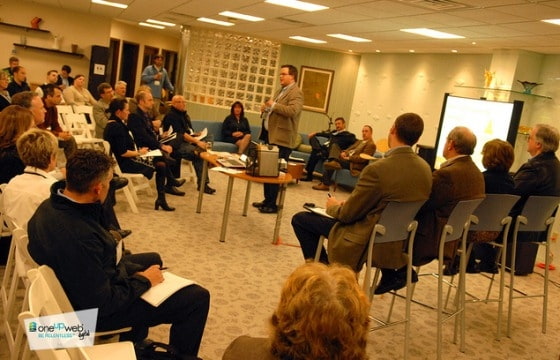 The networking was first rate for all in attendance and the spirit of the event was lively and fun—because let's face it—keeping a business afloat in Michigan right now isn't for the faint of heart and these Michigan executives and entrepreneurs have worked hard. BRIM 2011 was for those relentlessly committed to the mitten we all love and are proud of (and BRIM 2012 will be exactly the same). I am immensely proud to have been a part of the event and even more proud of the entire Oneupweb team for their commitment to this great state and delivering nothing but the very best for all who walk through our doors. (Proud, proud, proud!)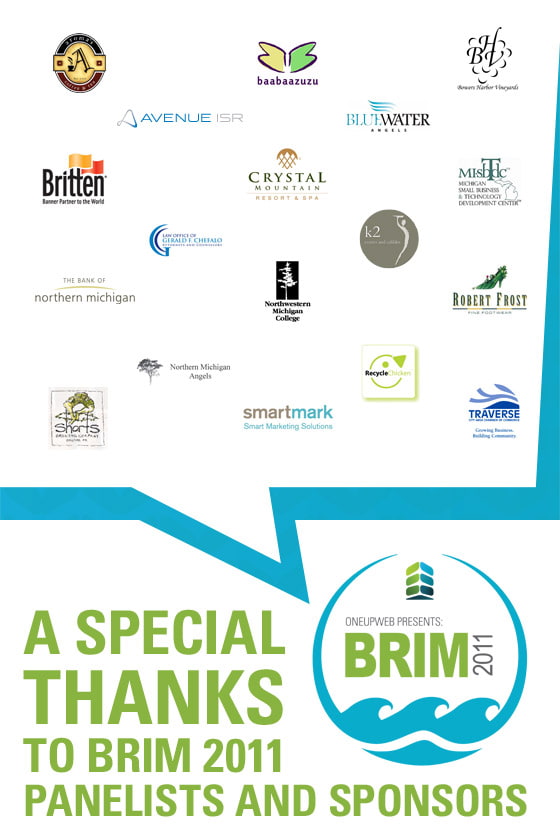 A huge thank you to all of our panelists, moderators and judges:
John Fitzpatrick, Entrepreneur Instructor
Northwestern Michigan College
Laura Oblinger, COO
Traverse City Area Chamber of Commerce
Chris Wendel, Regional Director
MI-Small Business & Technology Development Center
Duncan White, Director of Client Services
Oneupweb
Tanya Berg, Founder and Consultant
Smartmark Consulting
Joe Frost, Manager
Robert Frost Fine Footwear
Sue Burns, Co-founder and CEO
baabaazuzu
Chris MacInnes, COO
Crystal Mountain Resort & Spa
Lisa Wehr, CEO
Oneupweb
Kristy McDonald, Business Instructor
Northwestern Michigan College
Shen Chefalo, Head of Creative Marketing & Office Management
Law Office of Gerald F. Chefalo
Kelly Ignace, Founder
Recycle Chicken
Tim Kauffold, Director of Operations
Oneupweb
Mike Waligorski, General Manager
Aroma's Coffee & Tea
Woody Smith, President & Founder
Avenue ISR
Heather Fortin, Program Director Northern Michigan
Blue Water Angels and MidMichigan Innovation Center
John Paul, President/CEO
The Bank of Northern Michigan
Ron Hurd, Northern Michigan Angels
Patrick McIntyre, VP of Finance, Passageways Travel
Barbara Phails, PH.D., Associate Director & Associate Professor, Michigan State University
Chris Moultrup, Program Director, Mid-Michigan Innovation Center
Three cheers to our fearless entrepreneurs who pitched the investment panel LIVE:
Ajay Arumugam Socialtab Inc.
Raymond Pleva Pleva International Inc.
Joseph Seybert BOBR, LLC
Sue Tock Sue Tock Designs, LLC
Brian Johnson Applied Energy Solution
And a big shout out to all of our attendees—yesterday was the first snow we've had in Traverse City this year, but it didn't stop Michigan's brightest and best from traveling far and wide to get here!
The event rocked, we're all tired, but ready to start planning for next year. Have a great weekend Michiganders and know that all of us here at Oneupweb salute you!
Check out some of the event photos on Oneupweb's Flickr page and be sure to comment on this post if you have feedback or suggestions for 2012.