Oneupweb : "Butler vs. Duke" – Determining the Outcome
Well, it's over. Duke's won it all—again. And even though my brackets were each crumpled up and thrown in the garbage over a week ago, it was good to see a great final game.
I actually didn't get a chance to see all of it since I have a one-year-old and tend to pass out around 9:30 every night. So this morning I jumped online to see what the outcome was. And for this type of search, one that's relevant to a hot topic, I always like to see what the search engines serve up.
I decided to jump over to Google first to try to get a final score quickly, and, as expected, there was a profusion of blended search results. At the time of my search, "Butler vs. Duke" was a trending topic in Google, and as is typically the case, such a topic means that not only are a lot of people searching on it, but a lot of people are also pushing out content on the topic through blogs, news sites, video sharing sites, social outlets, etc.
Google elected to serve up four different types of "blended" results on the first page, on top of the ten more "traditional" results. I've put together a mocked up screen shot to show these blended results atop one another: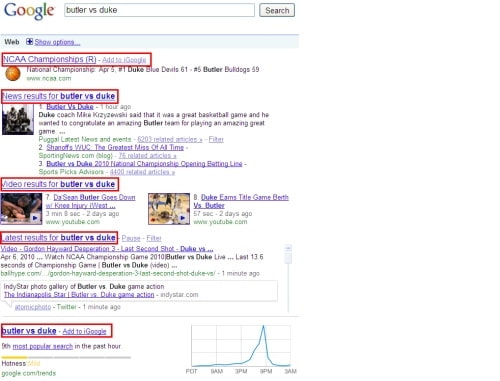 As it does from time to time, Google added a couple of its gadgets to the results, which in this case, I found to be helpful—particularly the "Sports Scores" gadget at the top, which let me quickly see who won.
After that disappointment, I glanced down through the News Results to see that there was apparently the "greatest miss of all time", which was also helpful as I got a chance to dig in to see how it actually went down in the end.
In terms of providing me, the user, with the most up-to-date content, I was a little disappointed in the Video Results. One was showing a clip of De'Sean Butler go down with a knee injury in a previous game against Duke, and the other video showing that Duke clinched title game berth against Butler.
I have to cut Google a tiny bit of slack here, since both were relevant to my search query, but overall, when it comes to hot or trending topics, I think this is an area that Google needs to get better at when it comes to providing users with the most recent video content. After all, I performed this search eight hours after the title game was over, and while there were countless videos on YouTube relevant to this game, Google's results were somewhat stale.
Real-time results came next, which were a mix of people's opinions in tweets and blog posts, sprinkled in with some more authoritative news articles. Overall, these results were relevant, but not anything that I was really interested in at the time, in part because they were halfway down the page and I already found what I was looking for. I actually didn't see these at first, until the scrolling content caught my eye, which I guess is inline with what we found out about real-time results in a recent study.
Lastly, Google points out that this query is a trending topic with another one of its iGoogle gadgets.
For this particular query, even though I don't have my Google profile setup to allow Google to access my social circle, I think this would have been an instance in which Social Search results would have been appropriate, as it would have been interesting to see what my friends thought of the game (but I have a feeling I already know).
I also quickly jumped over to Yahoo! and Bing to see if and how they presented blended results for "Butler vs. Duke", which they did, but in their own unique ways (as usual).  While I use Google more times than not, I personally like many of the updates that Microsoft has made to Bing over the past several months, including the way that they integrate blended results, which includes more prominent calls to action for Image, News and Video results in order to give more control to the user. I also like how Bing's Twitter search keeps this piece separate, and not only shows the most recent tweets relevant to my search, but also top links shared in Twitter to allow me to find a reputable or original source of content around my topic of interest.
Overall, I thought the blended results served up for this trending topic were valuable.  It was good to see a mix of content from a variety of sources, which is the underlying intent with universal search results.
We're going to continue to see more of this new content in new forms as it continues to become more readily available to both users and the search engines. For businesses, retailers, bloggers, news outlets, authors, or anyone that wants their content found in the search engines, it's important to identify which of these types of blended results plays a prominent role relative to your industry, and then figure out how to show the engines that it's your content that deserves to be at the top.