Oneupweb : Chili Cook-Off 2011
Your basic chili recipe is boring and simple: throw some beans in a pot, spice it up with chili powder, and add a base (often tomato). Despite its simplicity, choosing the extra ingredients (beef, chicken, peppers, etc) and transforming them into a tasty meal takes talent. Worry not: Oneupweb's got talent in spades. And we're not afraid to showcase it.
Yesterday (November 14, 2011) the Oneupwebbers threw together a Chili Cook Off. Participants traded in the mouse and keyboard for a chef's hat and apron. No surprise, the assortment was diverse, inviting and a little spicy—just like the staff. Between traditional red chili with ground beef, to white chicken chili with habaneros, and other blends that toed the line between soup and je ne sais quoi, each Oneupweb chef d'ouevre delivered.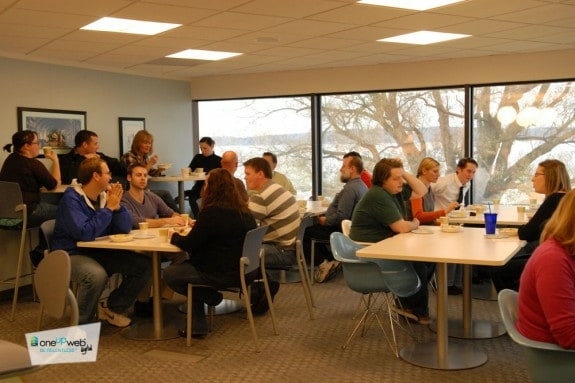 But that's just what we do here,  no big deal. That's a Monday around the office. It's routine to take seemingly simple concepts and revamp them into delectable substance using relentless energy. So if your brand's gotten a little dull, or you need to add some flavor to your business, look no further than the experts here at Oneupweb Digital. We make damn good chili, but we're pretty serious about our digital marketing prowess, too.