Oneupweb Creates iPhone App For Franchisors
Oneupweb is on the cutting-edge of digital marketing. And as we recently announced in our January monthly newsletter, OneUp Low-Down, we've developed a new public iPhone application for franchisors.
That's right, Oneupweb is "mobilizing" our digital creative services to include the explosion of iPhone apps.
This demo iPhone app includes all of the elements needed for franchisors to engage with their customers and potential franchise leads.
Not a franchisor? No problem. Oneupweb can create a custom iPhone app for you and your business. Check out our list of creative services for more information. And subscribe to Oneupweb's monthly newsletter, OneUp Low-Down, to be the first to hear about about Oneupweb's latest cutting-edge developments.
Up Next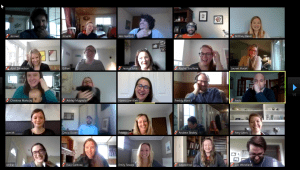 Building Remote Company Culture We've been working from home for … approximately 3,781 days. Just kidding. Obviously, our marketing agency is blessed to be able to continue working remotely, providing services to our clients and staying healthy all the while. Even before 2020 threw us a curveball, we had a flexible work-from-home policy and a...