Oneupweb : Poof! Magic Formula for Website Development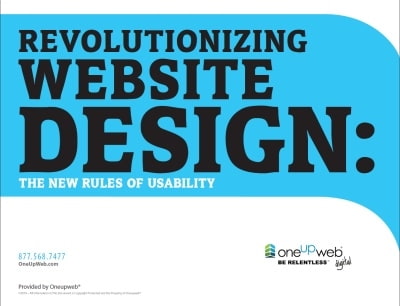 Don't worry…we're not truly claiming to be magicians. However, we did create the vital formula for website development! Our groundbreaking formula literally calculates whether the design and usability of a website causes or costs customers and sales. After months of  researching, observing, formatting and editing—the formula is finally available in our latest white paper, Revolutionizing Website Design:  The New Rules Of Usability. Be sure to download a FREE copy now!
Having a dysfunctional website is detrimental. Like a terminal illness weakens a body, an insufficient site is sure to kill a company's bottom-line.
No matter what industry you're in (e-commerce, higher-education, travel & hospitality, and business-to-business or other), creating and maintaining a quality website will increase your company's revenue. Websites need to be carefully developed in order to reach the correct balance of content and design. Creating the equilibrium of graphics, text and white space is crucial! And functionality of a website is just as important as the appearance.
Yet, most people don't realize the dangers of poor website design. In our study we found that a website with confusing navigation will frustrate viewers and most likely cause site abandonment. Want to know a really shocking fact? During our study we found that e-Commerce sites have a task failure rate of 45%!
Scary, huh?
Fortunately, with the aid of our new formula, your website will drive sales rather than drive them away.  We've got what it takes to construct successful websites! Don't be shy…contact us.