Oneupweb : Detroit's New Bing?
Growing up in the Metro Detroit area, this is a special time of year for me and for Detroit suburbanites, international journalists, worldwide corporations, and the city and people of Detroit itself. This week marks the Detroit Auto Show. Considered one of the most important events for the auto industry, the Detroit Auto Show introduces new vehicles and showcases the latest features for existing models.
Curious to see what's out there for 2011, I explored the auto show website and was pleased to see a live Twitter feed, a mobile site, a call to connect on Facebook, as well as a link to MSN Autos. Here, you can view photos from every angle imaginable, watch videos, and read how Ford is charging into the electric game or why you should give the Passat another look.
Both of these sites offer rich content, but aside from revenue generating paid links, loads of visitors and opportunities to build brand loyalty, how does this relate to digital marketing?
Bing—The Decision Engine
Detroit has Mayor Bing, and the rest of us just know the other Bing. Like Detroit, Bing is considered second-tier in the search engine world. For reasons beyond the scope of this blog post, a majority of people won't use Bing and most people won't visit Detroit. While you may miss out on an awesome St. Patrick's Day at the Old Shillelagh and other fun-filled Detroit destinations, you should check out the latest Bing search feature.
Remember your favorite vehicle from the Detroit Auto Show website? When you search Bing for a particular vehicle, Bing features search results straight from MSN Autos.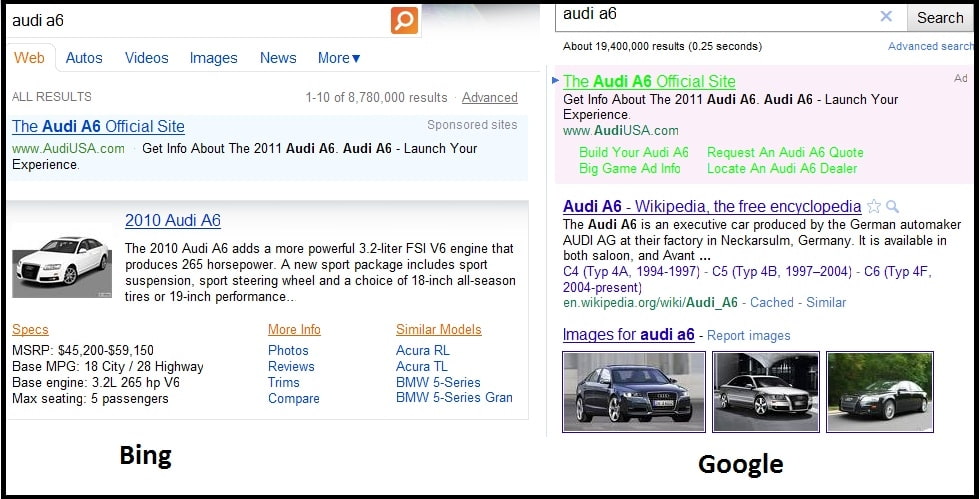 While the model you drooled over at the auto show may not be available yet, you can see the base price, reviews and much more for other model years. Google has yet to offer such features and instead, gives the first listing to Wikipedia.
While comparing a search engine to a city is not an equal comparison, marketing is rarely a level playing field. Even comparing a search engine to another search engine isn't without its factors. At Oneupweb, most of us are not engineers, and some of us (ahem, me) have no idea how to assemble an engine. But we do understand the business of search engines and know how to drive results.