Oneupweb : Emotional Skiing?
February weather here in northern Michigan means lots of snow and frigid temps. Those of us who live here and want to escape cabin fever this time of year, do so by going outside to enjoy nature. Ice fishing, snowmobiling, ice skating, snowshoeing, sledding and skiing give us plenty of options to enjoy the outdoors around here. If it's snow or ice related, bring it on!
A month into the new year also means those resolutions you made in January should be fully underway. You know the ones about getting fit, spending more time with family and trying something new this year. After the holidays things have now settled, our routines are back to normal and everything's in order, right? After the excitement of the holiday festivities, it's back to working hard. Make sure you also enjoy that free time when you get it…but be cautious of what you indulge in.
For instance, heading to the slopes for a day of skiing might seem like a wonderful idea, a great way to unwind and get some much needed exercise, but don't over do it, at lunch that is. Just because you're on the slopes doesn't mean working that greasy burger, fries and a few beers off will be easy. However, if you're sporting one of those nifty smart phones try this calorie calculator out. It may just help you decide on something that will energize you through the afternoon of skiing instead of bogging you down like that burger you would have chosen. Not to mention it's pretty fun too. I'm an emotional eater based on my lunch tray I prepared.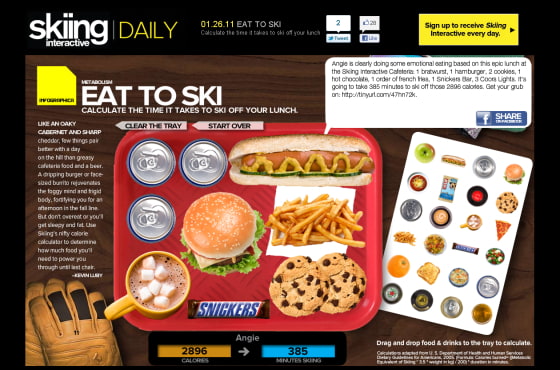 When lunch is over and you're ridding the lift to the top of the hill for yet another run use that spare time to look us up. No ski hills in your neck of the woods? Then schedule a time to come check us out in person and get a glimpse of what living in Northern Michigan does to help us work harder for you. Oneupweb has the services you need—whether it's search marketing, social media or web design—we've got you covered.