Oneupweb : Every Designer Has A Magic Wand, Right?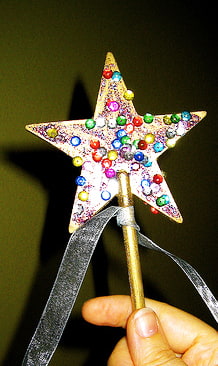 I was recently introduced to a blog titled, Clients From Hell, which is a compilation of hilarious—and some horrific—stories of designers' interactions and correspondence with clients. This blog has it all—everything from a request for a "faxed animated GIF", to matching a PMS color to the Texas sky at daybreak, to the numerous stories about impossible turnaround time requests, cost of services and payment (or non-payment, in the case of many). And these are stories that only two types of people will understand—those who are either currently working in or around the design industry and those that have worked in or around the industry in the past.
Although there's a part of me that questions the validity of some of the posts because they seem just a bit too outrageous, there's another part of me that can totally relate—in one way, shape or form—to every last word. Just with less severity. And after reading the first eight or so pages, I realized that all of these stories share a common theme—the misconception that designers carry magic wands that allow us to perform impossible tasks, under impossible deadlines…for free.
Fortunately, I'm part of a five person (soon to be seven) in-house design team who answers to a marketing director who's been around the industry block enough to understand our designer plight. Oh, and did I mention that our CEO started her career on the interweb as a website designer? Yes, this takes some of the pressure off, but we still maintain our Midwestern work ethic (aka: we work our butts off) and perfectionist attitudes.
The moral of the story is this: we won't (re)design your website for $100, we can't do it in less than three days and under no circumstances will we sacrifice usability for design, or vice versa. However, we can provide you with a website (re)design that actually produces results. Because our process begins with a well-conceptualized plan that factors more than just pretty colors into the equation and ends with an online presence that delivers your visitors a positive experience, which keeps them coming back for future visits. And ROI is king, right?