Oneupweb : Eye Tracking Labs Zero In On Real-Time
Remember Bill Nye the Science Guy? Kids across the country would sit glued to their televisions in awe because, after all, this was way cooler than any of the science demos at school. In Bill Nye's hands, mundane things like vinegar and baking soda became explosive miracles of science. We all, hopefully, learned the importance of wearing eye protection.
Today, we sit glued in front of computer screens or, if we're away from the desk, our mobile device is surely on. And rather than passively watching what happens when the unknown powder is mixed with the volatile liquid, we now have the opportunity every day to be a part of some newfangled online social experiment. You get to be one of the test subjects whenever a "beta version" of software or an app is released—it is the testing phase of development process. No goggles or lab coats required.
But not everything goes beta before it goes live. And sites like Facebook and Twitter are constantly rolling out new features or tweaking the platform. At Oneupweb, our team of digital marketing wizards are tracking, monitoring and analyzing all the new developments in the digital landscape—what will explode next?
Now here's a little experiment you can try in the comfort of your own home that won't require a fire extinguisher: whenever you're ready, search for the "Oscars", in Google (a current "Hot Topic"). You may have to scroll down a little depending on the dimensions of your browser window. Do you see the scrolling box of results? What about the big gorilla?
Well, when Google announced this new feature—real-time results—back in December 2009, we had a few questions. The basic idea is this: tweets, and current updates from Facebook, blogs, and websites will be integrated into the standard search results as they happen. But will people notice the real-time results and, more importantly, are these results getting clicks?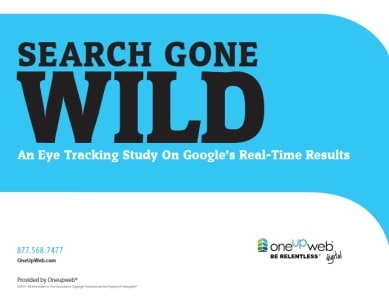 We rolled up our sleeves and headed to the Oneupweb laboratory. We were going to put the real-time results under the microscope, or rather, eye tracker.
Search is a key element of online marketing today. So it only makes sense for businesses to stay abreast of changes in the search landscape. And Google, Bing, Yahoo! and a variety of start-ups are getting into the real-time game. This is an online experiment that will have a huge impact on the future of search. Keep your eyes peeled—you don't want to be caught off guard when real-time explodes.
But what about the gorillas?