Oneupweb : Facebook Is Not Giving Away Your Phone and Address
Last week it was reported that Facebook had just begun providing users' mobile phone numbers and home addresses to developers of applications and third party websites. When the media broke the news about this new development, my phone rang off the hook and my inbox was flooded with "did you see this?" emails.
Most people were beside themselves. How dare Facebook give away their information like that!
My recommendation was for everyone to do exactly what I did when I heard the news. First, read the entire article. Facebook wasn't just handing out mobile phone numbers to anyone who wanted them. In order for a developer to have access to that information, you had to grant them the right. After the announcement, the first time you chose to interact with an app on Facebook, you were greeted by a Request for Permission screen, like the one below: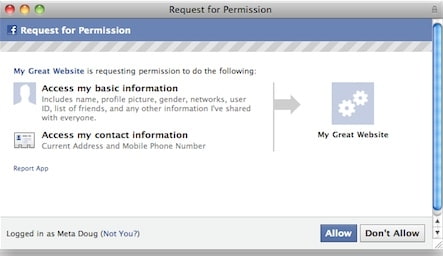 There were two categories of information that you were allowing the developer access to if you chose "allow". The first was your basic information that you have chosen to share with everyone. This is, in essence, public data. That is because anyone who visits your Facebook page can access this information. If you're not comfortable with that, all you have to do is to change your privacy settings. You can choose to share certain information with:
Everyone
Friends and Networks
Friends of Friends
Friends Only
or customize your settings to choose specific people to share the information with, and/or specific people to hide the information from.
The second category that was recently added to the Request for Permission screen was to access your contact information: your current address and mobile phone number. If you weren't comfortable with allowing an app to do that, you could choose "don't allow". As Tyrah Banks tries to get her Top Models to say, "Easy. Breezy. Beautiful."
I think it's important that I point out that Facebook has now disabled this second feature due to public concerns. Developers do not currently have access to your mobile phone number or home address.
But did they really in the first place?
The second thing I did after reading the entire article was to log-in to my account to see if I had, for some crazy reason, actually given Facebook that information. I went to my profile, clicked on info, scrolled down to contact information, and clicked on edit. Just as I'd thought, my mobile phone number and address were blank. Facebook can't give away information about me that they don't have.
This is important for everyone to take note: Facebook will try to roll this feature out again. Odds are they'll make a few changes, but in the end, they'll still be asking you to grant developers access to your information. If it's something you're not comfortable with—don't give them access. And you should seriously consider whether or not you want to include this information on your Facebook profile. This information is not required for you to have a profile on Facebook—it's information you're giving up voluntarily.
Please everyone—be mindful of what you put on Facebook. If you don't want your employer or co-workers to see those pics of you wasted at last Saturday's party, don't put them on Facebook! If you don't want Facebook to allow developers to ask your permission to have access to your mobile phone number, don't put it on Facebook!
I'd like everyone, right now, to log-in to their Facebook account and review their privacy settings and edit their settings for apps and websites: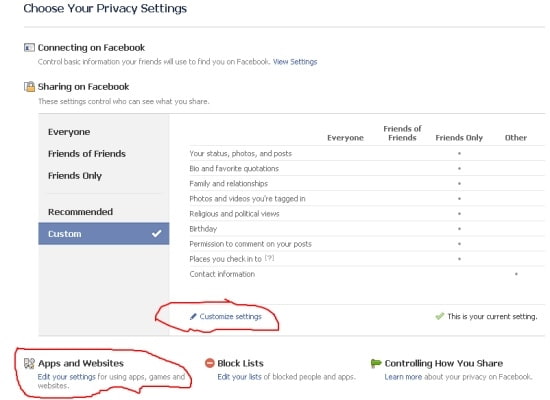 Set these categories to whatever you are most comfortable with. Then, if and when Facebook rolls something like this out again, you know who has access to your information, and who does not. Because in the end, it's really up to you. And Antoine Dodson, you can run and tell that, homeboy!