Facebook Page Admins Can Now Unmerge Places and Pages
Facebook gave page admins around the global an early Christmas present in 2010, helping them reverse the "mistake" of merging their Facebook Place with their Page. That's right—you can now unmerge.
However, if you're here today wondering how to unmerge Facebook Pages, you're out of luck. You can't go back once two accounts have become one.
More About Merged Pages and Places
Update: This post was originally published in 2010, and a lot has happened since then. If you're looking for information about current social media marketing trends, check out our recent articles.
Facebook first announced Places as their new check-in option available to iPhone users. It was designed much like Foursquare, where you use a mobile device to check in to a place when you physically arrive there. Business owners could claim their Place, which later opened up the option to offer deals to people who check in to your business.
Yet, it was another property on Facebook that you were responsible for. Wouldn't it just be easier if your Place page and your Business page were one? I'll admit that when Facebook first announced that you could merge your Facebook Place with your Page, I was pretty excited. But you probably noticed, earlier, that I called the Place-Page merging feature a mistake …
Why Unmerging Is Trending
Merging your Place with your Page presented some major obstacles. The one that stood out to me was the inability to set a landing tab. As I've previously noted, businesses use these tabs as a way to further communicate with their visitors outside of the wall. Several companies use Welcome tabs to encourage visitors to become fans of their page, and some use Shop Now tabs that virtually puts their online store on Facebook.
If you take the ability to set a landing tab away, most businesses are not going to be happy. Especially if they don't realize that's going to happen. Which is exactly what happened when people merged their Facebook Place and Page.
The real kicker was, there was no way to unmerge them. Once you'd merged the two entities, you were stuck—until now.
InsideFacebook.com is one blog among many that is reporting a new feature to Unmerge: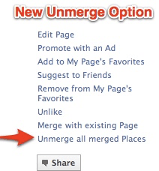 Oneupweb's social media marketing experts, and quite possibly social admins everywhere, were thanking Facebook for this great Christmas surprise!