Facebook Questions Personalizes Your Queries
I have a hard time remembering things. And because of that, I regularly go to Google.com to search for the things I can't recall. Things like, "What's the shortcut for the trademark symbol?"
From my Google search, ironically, Yahoo! Answers will be the first or second search result for my specific query. Et voilà, my answer is ALT+0153 ™.
Yahoo! Answers has been around since December 2005, and with such an extensive history, its results rank high in search engines.
Enter Facebook Questions.
Officially introduced last July, Facebook Questions "helps you tap into the collective knowledge of the more than 500 million people on Facebook. For example, if you're vacationing in Costa Rica and want to know the best places to surf, you can use Facebook Questions to get answers from nearby surfing enthusiasts. Because questions will also appear to your friends and their friends, you'll receive answers that are more personalized to you," as stated in a recent Facebook blog post.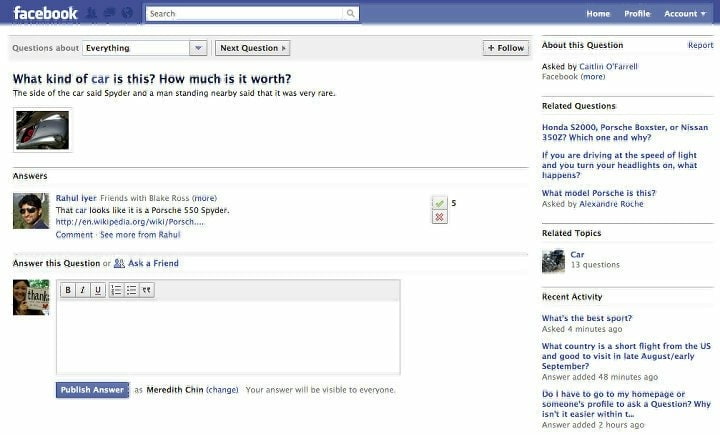 In other words, the social media giant is leveraging the success of user-generated information like Yahoo! Answers and Wikipedia, but with a twist—answers will be more personalized because of your social network.
Below is a list of features that allow you to have more personalized answers in Facebook Questions:
* Add photos or polls. Curious to learn the breed of your beloved mutt? Add a photo of the pooch along with your question. Unsure what hybrid car to buy? Include a poll for users to submit their opinions.
* Tag themes related to your query. If you are interested in playing roller derby but you're not sure which skates to buy, simply tag @roller derby in your question so more targeted Facebook users see your query.
*Ask questions to your friends or a specific group of people. Simply ask your question as a status update targeted to the specific group of people you'd like to ask. Please note: all questions and answers posted using the Facebook Questions application are public to everyone on the Internet, not just people on Facebook.
* Follow Topics. If you are interested in a certain Facebook Questions topic, you can follow the question so you are notified when users post new answers.
Is Facebook Questions available for your profile yet? If so, what do you think of it?