Oneupweb : Facebook Tips and Tricks
I was talking to a friend the other day about using Facebook for her small business and how it's a great marketing tool. While we were discussing the social network, I realized there were a few things that I would like to share and recommend with all of you loyal StraightUpSearch readers. So, here are a few tips to get you started, or on the right path:
To Update or Not to Update
One thing that really bothers me when I look up a company or a small business online, is a page that hasn't been updated. It's definitely one of the most annoying things a company can do, because it communicates a laziness about their business. What's the point of having a Facebook page if you aren't going to use it? If you don't frequently update your Facebook page, people are going to begin to ignore you and your brand. Lack of updates shows you don't care and soon your consumers won't care about you.
Don't be Stingy
People have a tendency to only share their own content. It's a social site for heavens sake! Share, Share, Share!!! When you consistently post content driving people to your own blogs, websites and social profiles, people stop listening (at least I know I do). Share topics that are relevant, funny or just downright different. By sharing things from other sources you gain interest and trust from the people you're trying to reach. Make sure your opening up topics and subjects are always something that your readers or friends will enjoy.
Mass Adding is for Goobers
Having 200,000 followers isn't effective unless you have 200,000 followers that are really interested in being your friend, having a conversation and sharing content. Don't be a friend hog—remember it's quality, not quantity. Make sure that before you add someone that you have at least 5-10 common friends, because you want to avoid creeping people out by randomly adding them. It will seem less spammy, more real and you'll most likely be accepted by those you send requests to if you are connected to them through other friends, organizations and networks.
When You Add, Say "Hi"
When a company or friend tries to add me on Facebook without some kind of message, I'm less likely to accept their request to add them. In real life you make conversation when you meet someone and I don't think the rules change when you friend someone online. Make sure to say "hello", or send a more personal greeting like, "Hey aren't you the woman I met on the subway the other day? We were talking about what we had for lunch and how it gave us such bad gas. Well I found the remedy! " It's important to have an introduction, because people are much more likely to accept your friend request if you tell them why you're adding them and how they'll benefit from connecting with you.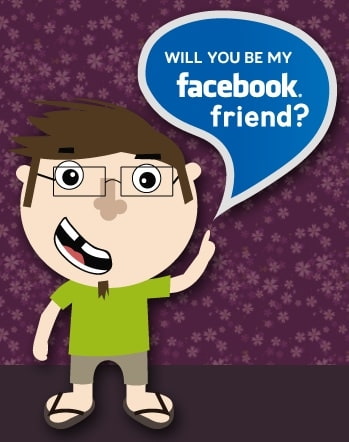 If you haven't started using Facebook in your marketing mix, now is the time. And If you get lost or need some help, were always up for some good conversation and our social team would love to chat. Facebook fan us and start up some conversation today.