Oneupweb : Facebook, We Need To Talk
Yesterday I almost had a heart attack. One minute all of my client's Facebook pages were great—fans were at an all-time high, interactions were up and sales were climbing. Then it all went crazy, and then—nothing but a blank screen where Facebook.com used to be.
Apparently Facebook "accidentally" went live with some prototype features. According to Mashable, "roughly 45 minutes after the mistaken update, Facebook disabled the site, reverted back to its previous state and then tweeted apologetically about the downtime."
It's not the downtime I'm worried about. It's some of the changes I saw that have me worried. Actually, just one specifically.
Please, Mark, I beg of you—do not take away landing tabs!!
Currently pages have the ability to create custom Facebook tabs, and can set these tabs as a kind of landing page. Right now, if you visit Oneupweb's Facebook, you'll be greeted by an angry looking Santa Claus asking for you to put someone on the Naughty List.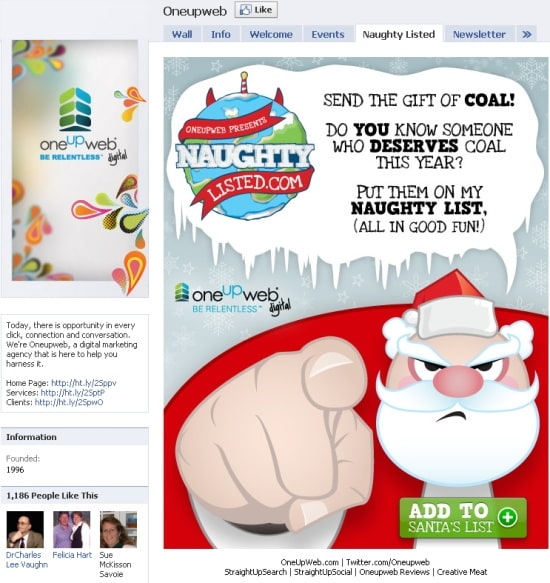 Businesses use these tabs as a way to further communicate with their visitors outside of the wall. Several companies use Welcome tabs to encourage visitors to become fans of their page, some use "Shop Now" tabs that virtually puts their online store on Facebook, and a lot more.
Mark, let me tell 'ya. I think removing these tabs would be a huge mistake. People aren't going to be happy. Remember Beacon? The firestorm that could be brewing if you take away default landing tabs could be just as big. And nobody wants that.