Oneupweb : Facebook's Big News and Google's Small Response
Facebook or Google? Google or Facebook? Both or just one? The truth is most people are now using both and probably will for sometime into the future. However, the scales are clearly tipping. We'll take a look below at a couple of recent announcements and you tell me which company is headed up and which one seems to be stagnating a bit.
Comparing these two Titans side by side, look at the traffic performance (thank you Compete.com):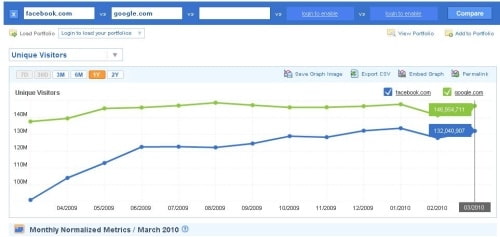 Last month Facebook announced a whole new tagging system that will allow you to place Like Buttons, Comment Boxes, Recommendation Windows and Activity Updates more directly on your website. This is a sea change, a paradigm shift, a move to control the web as we know it.
The online marketing world was, of course, stunned and forced to scramble to figure out how to leverage this. Did this put marketers in a holding pattern to see what's next? Not really. In barely a week since the changes were announced, Facebook released a story letting the world know that over 50,000 websites had already gotten on board. Check it out here: 50,000 Websites Quickly Follow Facebook Like Snakes Following St. Patrick
What amazing thing did Google do in response? They added brand names to some of their product search results. Take a look at the image below to see what I mean. Wow. Really Google? Are you finally just catering to big brands? I thought sites had to algorithmically prove themselves. The small guy could be the winner, right? I guess not anymore…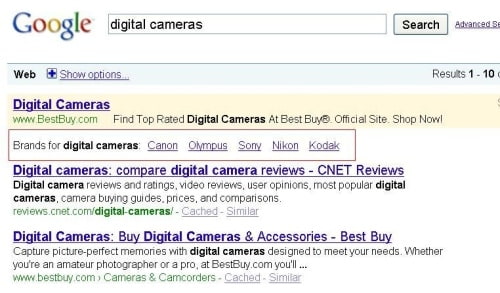 What does this all mean? Google is still, and will be for sometime, a hugely important part of your online marketing mix. This also means businesses need to get serious about how they are going to leverage all of the opportunities Facebook presents. It's time to get integrated.