Oneupweb: Famous Ann Arbor Entrepreneur Featured in Be Relentless Podcast
A busy, driven and energetic entrepreneur—Zingerman's Deli co-founder Ari Weinzweig shares his motivating business philosophy with Oneupweb CEO, Lisa Wehr, and Oneupweb Director of Operations, Tim Kauffold, in their latest Be Relentless™ podcast episode.
Oneupweb's monthly podcast series features accomplished Michigan business leaders who've succeeded against the odds. These guests have what it takes to be relentless and they provide inspiration to other Michigan business owners and professionals!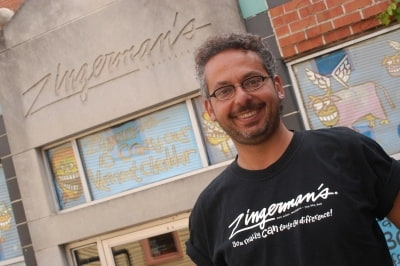 I certainly felt an impact of inspiration after listening to Ari's episode! Chernuska rye bread, Spanish chocolate dipped figs, cheeses from around the globe… and there's still more on Ari's plate. Okay…so, Ari didn't go into detail of his scrumptious products, he instead spoke on a much deeper level, providing some really insightful business strategies.
First off…Ari screams relentlessness—expanding his original one small sandwich deli into eight thriving successful food businesses! So, how in the world did he get the determination and energy to grow his company? Wait…I mean how does he still have all that motivation to keep expanding the Zingerman's community? Well, it's all a part of his business vision, and Ari sticks to his goals very seriously.
I was so moved when he spoke about how some things need to be written in stone to prevent grey areas and stressful decision making. I mean, the man's a genius—stick to your initial plans and don't be tempted or boggled down by countless variables. And I was truly fascinated to hear Ari explain how he already has constructed his business visions for 2020!
Ari's both intelligent and realistic! And I've got to quote him…"It was hard the day I started. It's hard today. It's always going to be hard." So true! And this is what I loved about his episode—he's majorly successful, but he's still down-to-earth and has a real charisma.
Perhaps one of the best pieces of advice he gives is to implement your personal passions into your business plans. For example, he explains how he enjoys traveling, so he made sure to incorporate more business trips into his Zingerman's vision. When you think about it…he's absolutely brilliant! Just think of how satisfying work can be when you enhance it with what makes you happy!
Listening to Ari's episode is a must! Check it out on iTunes, where you can also listen to past Be Relentless™ episodes.