Get Creative with Your Facebook Profile Picture
The largest image you can use for your Facebook profile picture is currently 200px wide by 600px high. Considering the Facebook branded profile colors (EFF0F5, D8DFEA, 627AAD, and 3B5998) getting creative with your profile picture is about the most customization your page will allow.
Due to the fact that .PNG transparency doesn't work in Facebook, I created a fake transparency by manipulating the colors used in the interface. Feel free to download this image and manipulate it to your needs. If you decide to make it larger just make sure this image remains at the top. I decided to play with some perspective in my profile by creating an illusion of me ripping out of the Facebook interface, as well as making the left page elements look 3D.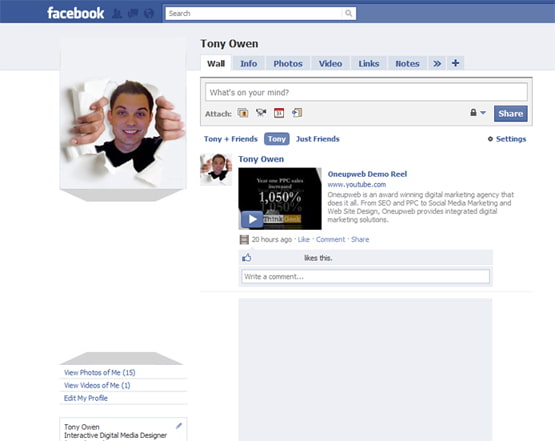 Depending on which browser you're using the image may be rendered out differently, so I took a thin gray line up on each side of the image and faded it to EFF0F5. This way the image won't break in certain browsers.
I also gave special attention to the vertical positioning of the image to align your post thumbnails, however these also render differently depending on your browser. If you're getting bored with your normal Facebook profile picture and want to rip through your interface just like me, feel free to download my PSD file below.
Facebook Rip-Through Template