Oneupweb : Get Your Groupon Coupon
"One ridiculously huge coupon each day, on the best things to eat, see, do and buy in your city."
Sounds pretty cool, eh? This is the mantra of Groupon, a social-buying site that allows users to purchase coupons (AKA groupons) for local restaurants, spas, retail stores and more, but only if enough people buy the coupon too. Groupon sets a minimum number of buyers for each coupon.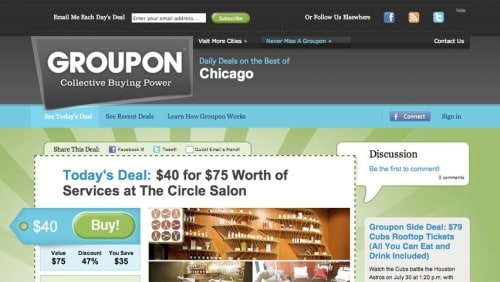 Here's how it works:
Groupon offers daily coupons for participating businesses promoting deep discounts on services and merchandise in your area.
You purchase the coupon i.e. "$8 for Two Tickets to River City Improv ($18 Value)". However, you only pay for it if enough people purchase it too, so sharing the coupon and inviting friends and family is important if you really want it. If enough people purchase the coupon, you will receive an email from Groupon with a link to sign in and print it. The coupon has instructions and a map.  If not enough people purchase the coupon, no one is charged and no one receives the coupon.
Check back the next day as a new business will be featured.
As of today, Groupon is not available in Oneupweb's hometown of Traverse City, Mich—bummer—but several people at Oneupweb have been campaigning for its arrival.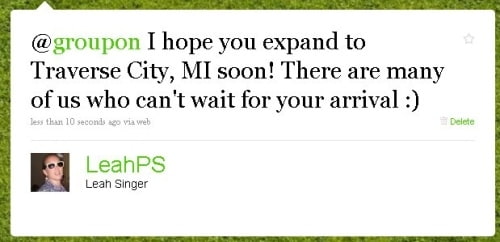 Groupon's fame has soared in the last several months as the service continues to expand. Recently, Gap partnered with Groupon for a nationwide campaign offering a 50 percent discount on certain clothing and accessories.
According to Inc., the Gap-Groupon partnership was selling at a rate of 10 coupons per second—Groupon's biggest seller yet. Groupon's previous record was 41 sales per minute.
Groupon spokesperson Julie Mossler told Mashable that "local 'brick and mortar' businesses are the foundation of Groupon, and that isn't changing. Many of our customers have asked for a national deal, so we're testing the waters with Gap. It's a perfect back-to-school deal, and a great way for us to reach subscribers in Gap cities where Groupon hasn't yet launched. Customer feedback (positive or negative) will be taken into consideration when we determine if we'll do partnerships of this scale in the future."
Do you have Groupon in your area? Do you use it? Please leave us a comment below.