Oneupweb : Go Go Gadget Smartphone!
I had to seriously evaluate the countless factors of upgrading my cell phone (like more than doubling the price of my monthly bill) before making my new smartphone purchase.  The time for an upgrade came and went, and surprisingly I haven't looked back.  Today, I'm the proud owner of an HTC EVO and I couldn't be happier.
I'm not really an impulse buyer—I usually go above and beyond researching products and options before I make a purchase.  Having my smartphone always with me has made the detailed process of product research to purchasing speed up.  I think that many new mobile consumers may also be experiencing this trend. I also believe many businesses are benefiting from their new on-the-go customer bases.
Consumers are ever evolving with their buying habits as they embrace new technologies, like smartphones. How have things changed? We can now scan bar codes and search for competitive prices for the same or similar products.  We can read reviews about businesses and their products and services. We can also post our own thoughts and share our experiences by writing reviews or publishing on blogs. And don't forget our likes and dislikes are displayed throughout social networks.  For many businesses today, it is now their customer bases that drive sales or prevent them.  Ultimately consumers are now the sales people for companies.
How can businesses make mobile customers happy to ensure they communicate about products and services positively? A business needs to make sure their website is developed for a mobile screen, so that it is readable. The path to the conversion or sale also needs to look  good on a smaller screen. My HTC EVO does have a large mobile screen, so most sites read perfectly fine for me.
Here's the latest example of how I (a consumer) have voiced my feelings about a product via a smartphone:
With the Amazon store app right on my home screen, I am now downloading songs left and right.  Disappointed with all of the negative reviews of Eminem's new album, Recovery, I downloaded it so that I could form my own opinion… and so that I could have some slammin trax that I could listen to as I mowed the lawn.  I give Eminem a big thumbs up on this effort and I had to place an order for the double vinyl album.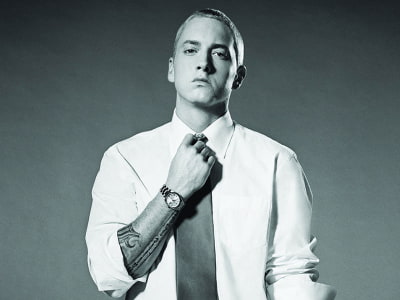 Hey Eminem, next time you're "up north" stop by and check out our studio here at Oneupweb in Traverse City.  I think you'd be a perfect candidate for our "Be Relentless" Podcast series. And, I'd love to hear what you have to say to your fans in the digital world.
I'm feeling like a brand new me as a mobile consumer, doing my research and making informed purchases.  Chances are that if I had a positive experience with purchasing on your website and noticed other great things you have for sale, I'll be back.  I might not make the purchase the first time through, but if you have what I need, can get me the facts, have competitive prices and look legit…let's do business!
If your business needs a hand with jumping into the mobile technologies, contact Oneupweb!
Oneupweb's Mobile Marketing Services Include:
Mobile website development
Custom iPhone application development
Custom solutions