Oneupweb : Google Ads Sporting Longer Headlines
As I'm sure many of you have noticed by now, the appearance of many AdWords ads have changed recently. Beginning on February 3rd, Google has been changing how pay-per-click advertisements appear on the search engine results page. Many ads in the premium spots now feature the first description line in the same line as the ad title, as shown in the image below: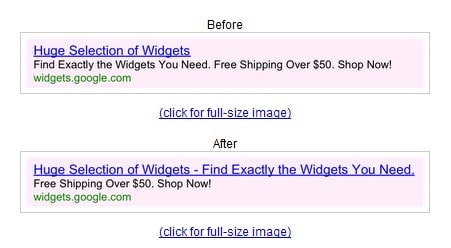 As you can see above, the new ad format features the headline followed by the first description line, separated by a hyphen. This means that paid ads meeting certain requirements will have much longer headlines. Aside from having longer headlines, these new PPC ads also look very similar to the organic listings. So, what requirements must an ad meet to be shown in this new format?
According to Google, there are a couple ways to increase the chances that your ad is shown using the new format:
1)   Each line in the ad must appear to be a distinct sentence
2)   Each line must end in the proper punctuation
This only new format only applies to ads appearing in the top positions, above the natural listings.
With regard to the reasoning behind the change, the "Inside AdWords" blog, reports that Google has found that : "the change results in higher click through rates for ads that are shown with the longer headline, as well as other top ads that appear beside them. It also creates a better experience for users by highlighting more information in the ad."
So, what do you think; Is Google taking a step in the right direction with this latest change to the AdWords landscape? Are you starting to feel like the recent whirlwind of  change in AdWords is difficult to keep track of? If that's the case, just contact a digital marketing expert like Oneupweb! And as always, please share your thoughts through the comments below. We'd love to hear about your experiences!