Oneupweb : Google TV—Coming Soon to a Living Room Near You!
On Monday, Google revealed more details on their "Google TV" technology and the many moving parts coming together to get this going. This is a timely offering in response to Apple's revamped Apple TV offering. Check out the YouTube link to the Diane Sawyer Report on the future of television.
With Google TV, users will now be able to instantly switch between television programs, websites, online video content, social media outlets, their DVR programs, and anything else that exists on the computers or smartphones throughout their home. This is an attempt to revive the days of old, where the whole family gathered around the television for entertainment time. The average American still spends five hours a day in front of the TV, and Google seeks to tap into the advertising potential on these big screens.
So Far, two manufacturers announced that they will be selling products with Google TV-enabled hardware. On Wednesday, October 6, 2010, Logitech announced their "line of products" for Google TV. One of which will be their "Revue Internet-TV" set-top device, which is also touting the ability to handle HD video conferencing. On October 12, Sony will be introducing "the world's first Internet television", complete with an Intel processor and a wireless QWERTY remote with voice controlled search features, as well as their new Blu-Ray line of Google-TV enabled devices.
A growing list of Google TV participating television networks includes the Time Warner family of TBS, TNT, CNN and HBO. They also have agreements in place with the NBA, CNBC, Amazon.com and Netflix. And Twitter, Vevo, Pandora and Napster also have specially designed offerings for Google TV.
The major broadcast networks: CBS, ABC, NBC and FOX still haven't come aboard, but I hope they do soon. Give me those basic channels, and throw in ESPN, HGTV, The History Channel and The Food Network, and I'll cut my cable cord today!
However, in an official blog post, Google said that they are still in talks with a variety of unnamed parties and they are predicting more content partnerships will be announced in the next few weeks.
There are currently many televisions, blu-ray players, and set-top boxes already on the market that offer a Web-connnected TV experience—however these only give the user access to specific Internet content. Google TV is said to offer users a complete Web experience—allowing those on the couch the option to pull all of the media from their computers, broadcast and cable channels, as well as everything that is available on the Internet through the included Google Chrome browser.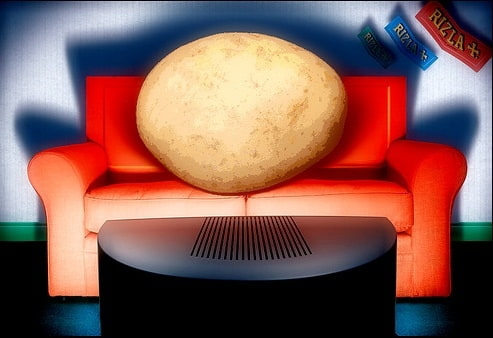 Jacob Ward, editor of Popular Science, said that the offerings from Google TV and Apple TV "are primitive ancestors to the devices we're going to see". He said that software will soon be able to sort through the whole media universe and give the user content that is customized just for them. And I'm sure that the customized and super targeted advertising will be riding shotgun with that content.
With so many immediate choices in the hands of the Google TV connected user, many are wondering about the future of traditional television advertising. Is this a new opportunity for businesses to target exactly who they want to reach? Google knows who you are, what you want, and will now have many more ways to give you exactly what you need.